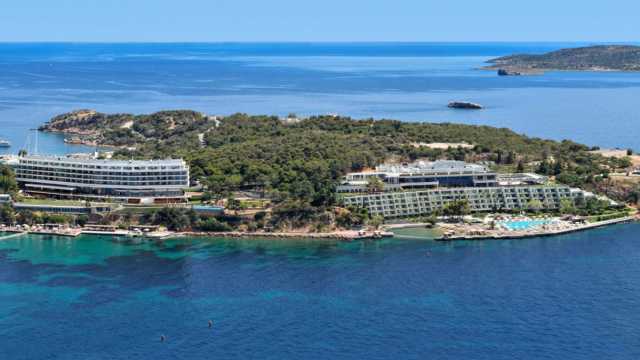 Located along the crystal clear waters of the Athenian Riviera, Four Seasons Astir Palace Hotel Athens to open following extensive renovations to existing property
Four Seasons Hotels and Resorts, the world's leading luxury hospitality company, and Astir Palace Vouliagmeni S.A., the Greek hospitality market leader, have announced plans to bring the first Four Seasons hotel to Greece on the Astir Palace peninsula. Following extensive upgrades to the existing hotel, the new hotel will debut as Four Seasons Astir Palace Hotel Athens in spring 2018.
Conveniently located 25 kilometres (16 miles) south of Athens and 24 kilometres (15 miles) from the Athens airport in the area of Vouliagmeni along a pristine shoreline of the Aegean coast, the new Hotel will bring Four Seasons signature service to Greece for the first time. The iconic Astir Palace has long been favoured by elite international and Greek clientele. In addition to the Hotel, the peninsula, stretched across 30 hectares (75 acres) of pine-dotted and scenic landscaped gardens, also comprises upscale retail and dining options, including Matsuhisa Athens by Nobu; Astir Beach, a unique seaside concept; Astir Marina; and high-end seafront residences.
"Astir Palace has always been a landmark destination of international stature, located in the Athenian Riviera, one of the most coveted areas in Greece," says Stelios Koutsivitis, CEO, Astir Palace Vouliagmeni S.A. "We are strongly committed to embrace its legacy and elevate Astir Palace to a world-class premium destination. Our redevelopment plan includes the Hotel's complete renovation, a significant upgrade of Astir Marina, the advancement of Astir Beach, the development of up to 13 high-end residences, and the creation of Peninsula Park. We are excited to work closely with Four Seasons, the world's foremost hotel company, on one of the key areas of our redevelopment plan, the upgrade and the management of the Hotel, and set a new benchmark for luxury hospitality in the country."
"As one of Europe's most popular travel destinations, Greece has long been an area of interest for Four Seasons and we are pleased to mark our entry into this important market in partnership with Astir Palace Vouliagmeni S.A.," says J. Allen Smith, President and CEO, Four Seasons Hotels and Resorts. "The Hotel's location offers a unique combination of seaside tranquillity and easy accessibility to Athens city centre, making it an ideal destination for leisure and business travellers year round. We look forward to working with Astir Palace to introduce Four Seasons to Greece, creating a world-class hospitality experience characterised by product of the highest calibre and customised Four Seasons service." 
In preparation for the Hotel's rebirth as the new Four Seasons Astir Palace Hotel Athens, more than EUR 100 million is being invested into refurbishing its facilities. Features will include approximately 300 rooms, suites and luxury bungalows; spa and recreational facilities; state of art conference and event spaces; infinity pools; beaches; a unique beachfront promenade; and more. With interiors designed by Meyer Davis Studio, the concept draws heavily on inspiration from the beauty of the surrounding environment and local culture, embodying a contemporary yet timeless luxury design ethos with unique attention to detail, and establishes a connection to the property's history. Select food and beverage outlets, conceived by Martin Brudnizki Design Studio, will introduce new culinary dining concepts of local and international cuisines.