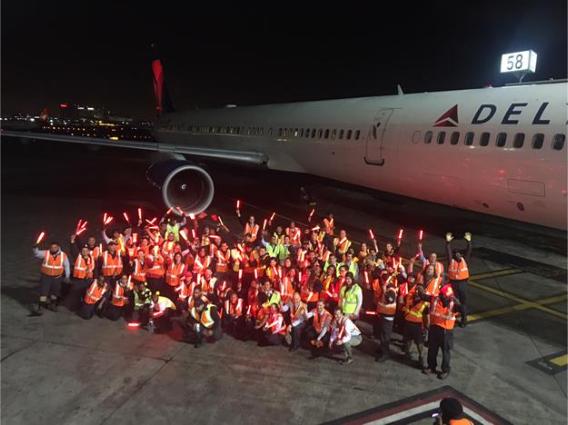 The final major round of airline terminal relocations at Los Angeles International Airport (LAX) were completed early Wednesday morning as Air Canada, Hawaiian, and JetBlue moved into their new homes throughout Terminals 5 and 6. Delta Air Lines also completed its move into Terminals 2 and 3, and Southwest Airlines' international flights will now arrive and depart from the Tom Bradley International Terminal.  The relocations are the last in the five-day "LAX on the Move" period, where over 20 airlines moved service equipment, network infrastructure, employees, and of course, aircraft as part of the airport's single largest coordinated terminal relocation.
            "We're incredibly proud of everyone involved in making the largest phase of 'LAX on the Move' a success," said Trevor Daley, Los Angeles World Airports Deputy Executive Director of External Affairs.  "Relocating over 20 airlines across terminals over a five-day period is a huge undertaking, but our airport community – our volunteers, operations staff, airline partners, ground service handlers, and partner agencies – came together and did a remarkable job.  We also extend our sincerest thanks to our LAX guests for their continued patience and understanding."
            The final airline relocation will be XL France, which is scheduled for June 4. It will move from Terminal 2 to Terminal 6.
            There were no reported delays attributable to the airline move across all three operational periods, although some were initially reported due to East Coast weather conditions and previously-scheduled Runway Safety Area construction.
LAX on the MOVE Statistics: Planes, Trucks, and Lots of Boxes
            Over the course of three operational periods, crews of movers and operations staffs worked to transfer equipment, install new signs, and relocate aircraft across both the airport's runways and across the Central Terminal Area (CTA). 
Moving Trucks: 16
Movers: 200
Volunteer Moving Assistants: 30
Dollies: Approximately 800 – 1,100
Boxes: Approximately 9,200
Computers: 900
Signs Deployed or Changed: Over 1,000
LAX Staff and Volunteers Will Offer Way-Finding Assistance through May 29
            Though the relocations are complete, LAX staff and volunteers will continue to be present throughout the airport to assist guests through Memorial Day, May 29.  This includes staff from our Guest Experience Team, LAX's V.I.Ps (Volunteer Information Professionals), and volunteers from the airport community, including LAX employees, the Bob Hope U.S.O., and local Chambers of Commerce.
Terminal Moves Bring Customer Benefits
            The relocation of brings numerous immediate benefits to customers flying through Terminals 2, 3, 5, and 6.
As of today, Delta customers will enjoy:
Quicker and easier access to the Delta terminal – located closer to the LAX entrance
Increased gate capacity
Closer proximity to flights operated by SkyTeam and joint venture partners
Airside bus transportation to and from the Tom Bradley International Terminal, eliminating the need for re-screening when moving between terminals
Passengers with airlines operating out of Terminals 5 and Terminal 6 will enjoy the benefits of recently remodeled terminals, which include:
New ticketing counters with customer-friendly islands featuring check-in kiosks, bag-check stations
Easy access from the Tom Bradley International Terminal to Terminals 4 through 8 using the T4 Connector, which allows guests to go through security screening just once
Enhanced décor and club lounge
Improved variety of new dining and retail concessions
Nursing Rooms
Animal Relief Stations
Four additional security screening checkpoints
New baggage carousels and international baggage re-check facilities
Passengers Should Continue to Check with Airlines for Correct Location
LAX recommends that passengers to check in, print or download boarding passes before leaving for LAX, so they can be aware of the changes and arrive at the correct terminal for their departure. Even though major terminal relocations have concluded, passengers are still encouraged to arrive earlier than usual, 3 hours for a domestic flight, 4 hours for an international flight.  When arriving at LAX, look up at new signage that will be updated nightly to reflect the moves, and which will identify the new airline terminal locations.  Finally, passengers are reminded to ask for help if they have problems finding their flights.
"We're excited for our guests, who will be able to experience more of what LAX has to offer following the airline moves," said Daley.  "We also invite our current and future guests to learn about what's on the horizon for LAX at www.laxishappening.com, where you can find information about our cutting-edge Midfield Satellite Concourse project, and the LAX Landside Access Modernization Project."