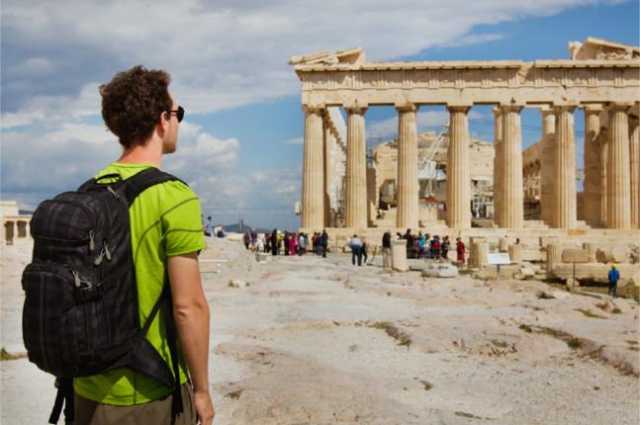 Youth Travel exhibitors in Hall 4.1 at ITB Berlin will have information on new language courses abroad and summer trips – Discussion rounds on festival tourism – Communicating with emojis
Why not explore the world instead of lying on the couch? This year, at ITB Berlin trade visitors and the general public can immerse themselves in the world of youth travel again. Tour operators, tourism associations and organisations will be gathered in Hall 4.1 where they will be showcasing their latest products and innovations in the Youth Travel & Economy Accommodation segment. Exhibitors will be presenting digital innovations such as VR goggles, information on new youth travel destination, events on festivals, and communicating with emojis. All these things will be just the ticket for their target audience, a new generation that is keen to travel.
At last, the ITB Berlin Youth Travel segment in Hall 4.1 has come of age, and in order to mark its eighteenth anniversary the youth tour operator 'ruf Reisen' has produced a special film. Inside the Language Zone, Europe's market leader will also have information on language courses abroad and summer trips with a focus on 'sports and beach', 'partying and beach' and 'chilling and beach' holidays. VR goggles will be available for visitors to enjoy sports on the beach with, and for chilling out afterwards in a special area.
In 2017 'Das Reisenetz – Deutscher Fachverband für Jugendreisen' will be occupying its largest combined stand to date in Hall 4.1. Schliersee and Arberland, two youth tour destinations of the future, will be exhibiting for the first time. These two regions will be represented as a pilot project of the travel network 'Jugendreise-Qualitätssiegel für Destinationen' alongside Bayerischer Landes-Sportverband e.V. The South African Youth Travel Association (SAYTC), a new partner of the travel network, will have information on youth tours in South Africa. Together with several of its members, this is the first time the organisation will be represented at ITB Berlin. Numerous events organised by the travel network and featuring high-ranking figures from politics and business will have information for visitors on the latest developments in the youth tour market on the stage in Hall 4.1 and in the Youth Incoming Germany Lounge (YIG). On Thursday, 9 March 2017, a get-together of the youth tour sector will take place at the big ITB travel network party (tickets at www.reisenetz.org/en/).
In Hall 4.1a, at numerous workshops, the World Youth Student and Educational Travel Confederation (WYSE) and other experts will be discussing millennials and Generation Z. They will present case studies and best digital marketing practices as well as strategies for youth destinations and working with bloggers.
On Wednesday, 8 March 2017, from 1 to 3 p.m., the first Youth Travel Startup Forum will have information on trends and developments in this growth segment. Among those taking part will be Andre Baumeister of FRAM – Science Travel, Mark van der Heijden of Wanderbrief, Frauke Schmidt of Unplanned, John Donnelly of Welcome Groups, and Sebastian Döpp of IT Jugendreisen.com.
On Thursday, 9 March 2017, from 1 to 2 p.m., visitors to the stage in the Youth Tour hall can also find out more about 'Sound Destinations: Music, Festivals and the Youth Visitor'. Moderator Nick Hall, founder and CEO of the Digital Tourism Think Tank, will be talking with Katja Hermes of Sound Diplomacy, Prof. Greg Richards of the WYSE Travel Confederation, and Matthieu Betton of Sojern, about the attraction that music and festivals exert on young people and how destinations can benefit. Colourful emojis have changed the way Generation Z communicates and also pose a challenge for tourism managers. Thus on Friday, 10 March 2017, from 11 a.m. to 12 noon, 'How to talk to Generation Z in five emojis or less' will be the topic of a discussion round. Taking part will be Michael Pötscher of Tour Radar, Emmanuelle Legault of Destination Canada, and Dom Carter of What Marketing Company, who will provide some interesting ideas and examples of best practices. The event will be moderated by Rhett Lego of The Conjoint Marketing Group.
School trips are fun. However, when travelling, knowledge of safety and legal aspects is needed. This where Germany's first 'school trip licence' should be of help. On Friday, 10 March 2017, over four sessions and in cooperation with Hochschule Bremen, A&O Hostels & Hotels and Welcome Berlin Tours will have information on topics including school trip guidelines, safety, sports trips and learning in different locations on school trips. On Saturday, 11 March 2017, on the big stage in Hall 4.1, 'school trip licence' certificates will be presented for the first time.