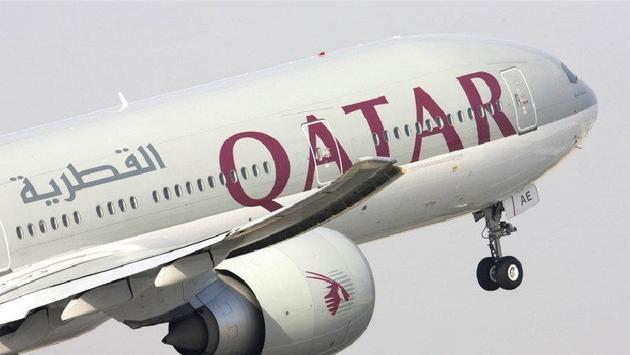 It was a historical moment for Qatar Airways, since it launched its new record-breaking Auckland service on one of the country's most significant days of the year– Waitangi Day. As the very first Qatar Airways flight touched down on the North Island of New Zealand, just after daybreak– a new chapter in the airline's history began.
Celebrations to celebrate the launch of the world's longest commercial flight, that takes 17 hrs and 30 mins and covers a range of 14,535 kilometres, began at the airport with a traditional water salute as the Qatar Airways Boeing 777 taxied down the runway.
Qatar Airways Group Chief Executive, His Excellency Mr. Akbar Al Baker travelled on board the inaugural flight from Doha to Auckland and was welcomed by The Hon Todd McClay, New Zealand's Minister of Trade and State Owned Enterprises; and Auckland Airport Chief Executive, Mr. Adrian Littlewood.
H.E. Mr. Al Baker said: "The launch of our new service to Auckland is an important milestone for Qatar Airways as we expand both in the region and globally across our network providing more options and better connections to exciting business and leisure destinations in Europe and the Middle East.
" Arriving in Auckland on Waitangi Day, and achieving the title of world's longest flight for the return record-breaking service, which covers a distance of 14,535 kilometres and lasts 17 hours and 30 minutes, makes this an even more momentous occasion for Qatar Airways and provides another accomplishment to celebrate in this our 20th year flying the flag internationally for Qatar."
His Excellency Jeremy Clarke-Watson, New Zealand Ambassador to the State of Qatar, added: "Welcoming Qatar Airways to New Zealand, through this direct service, is a significant event in the New Zealand Qatar relationship– opening up greater people to people and business to business connections between our two countries.
" We look forward to welcoming more Qatari and GCC nationals to New Zealand, taking advantage of New Zealand's 90-day tourist visitor visa on arrival for GCC citizens. We also look forward to working with Qatar Airways and New Zealand exporters to maximise the potential of the direct service's freight capacity, which opens up a whole new market for our exporters particularly in fresh food and beverage."
Mr. Adrian Littlewood, Auckland Airport Chief Executive Officer, said: "We welcome Qatar Airways to Auckland Airport and New Zealand. We expect this route to be very popular with visitors to New Zealand and with New Zealanders travelling, particularly between this country and Europe. Qatar Airways offers high quality inflight service and a wide network of destinations."Auckland is the first city in New Zealand to be served by Qatar Airways and will provide a gateway for travellers to visit the stunning country, which is famous for its spectacular coastlines and lush forest landscapes.
The new daily flight to Auckland is served by a Boeing 777, that has a two-class configuration with 42 seats in Business Class and 217 seats in Economy Class. Travelers taking a trip aboard the Qatar Airways Boeing 777 to and from Auckland in Business Class can enjoy among the most comfortable fully-flat beds in the sky with 78 inches of seat pitch. Additionally, the on-demand à la carte menu service enables Business Class passengers to order anything from the menu at any time in the course of the flight. The airplane also includes the airline's award-winning Oryx One entertainment system, offering up to 3,000 entertainment choices on private screens in each classes.
Passengers travelling on the inaugural flight were welcomed on board with unique cupcakes, additionally guests travelling in Business Class received a celebratory Kiwi Rose Fizz mocktail, both created to commemorate the new service. Custom menu cards and beverage lists inspired by a traditional Maori carving were also developed specifically for the celebration.
The Doha-Auckland-Doha daily services will provide 116 tonnes of belly-hold capacity every week in order to support the increasing imports of raw, industrial and consumer materials into New Zealand. At the state-of-the-art Hamad International Airport cargo terminal, Qatar Airways Cargo offers QR Fresh, a smooth temperature-controlled managing and storage solution, to deliver perishable products like dairy produce, meat and fruits from Auckland into the Middle East and on to major European cities.
The inaugural flight's arrival from Doha into Auckland Airport was captured by New Zealand's leading aerial cinematography specialist Tony Monk who filmed the Boeing 777's approach and descent on to the runway. Tony Monk is best known for his aerial photography work and cinematography for the Lord of the Rings trilogy, and has been awarded an accolade for Services and Safety to the Film Industry.
Auckland is the first new destination launch of the year for the airline that added 14 new destinations in 2016 and plans to launch more in 2017/18 including: Yanbu and Tabuk, Saudi Arabia; Dublin, The Republic of Ireland; Nice, France; Skopje, Macedonia; Chiang Mai, Thailand; Sarajevo, Bosnia Herzegovina; Libreville, Gabon; Douala, Cameroon; Rio de Janeiro, Brazil; Santiago, Chile; Canberra, Australia; Medan, Indonesia; and Las Vegas, U.S.