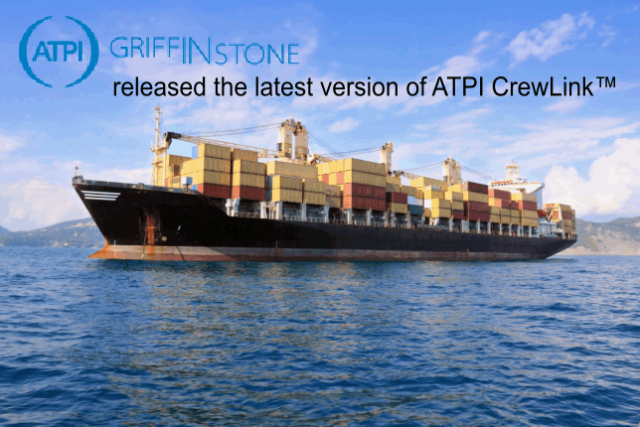 ATPI Griffinstone has released the latest version of ATPI CrewLink™ a workflow management platform which has been upgraded and rebranded.
The system is vital for businesses who manage the many challenges for those involved in the day to day organisation of global crew movements and multiple manning agencies. The shipping and energy travel specialist developed ATPI CrewLink™ to deliver more efficient crew planning and management, and to ensure total cost transparency and control.
As part of the expanding services for the industry, the company has also developed ATPI Door to Deck™ which integrates port agency services under one function, ensuring management has a seamless system for moving crew from their point of origin to boarding the vessel or rig and vice versa.
Gary Pearce, chief operating officer, ATPI Griffinstone explains:
"The development of ATPI CrewLink™ and ATPI Door to Deck™ are significant steps forward in how we can support our clients around the world using this bespoke technology. The greater efficiencies that these platforms can bring by saving both process time and costs will be highly valuable. We've listened to our clients and understand their challenges so we are really proud of the innovation this latest technology advancement will deliver to the sector, and how much it will contribute to the important priorities of mitigating risk, improving duty of care and accurate cost forecasting."
ATPI CrewLink™ 
The upgraded software is designed to sit between the Travel Management Company (TMC) and a shipping or energy company's HR system to cleverly integrate the complex data around every piece of travel undertaken across the globe. The expertise of ATPI Griffinstone has delivered a technology platform that revolutionises the integration of crew HR and travel management planning.
The technology platform offers modules which cover every aspect of booking, moving and financial reconciliation of the complicated and time intensive task of moving ship's crew and offshore workers.
By incorporating feedback from clients who are currently using ATPI CrewLink™ the latest software has been upgraded to include:
CrewScheduler – automatic HR feed for crew rosters, integrates with existing crew management systems and has quality control options
Travel Management – manages flight requests, including changes and cancellations, hotel and car hire bookings, visas and travel policy integration. Reduces the time behind labour intensive processes and sources the lowest possible fares 
Integration and workflow management – travel policy compliance, full cost management, links to third party suppliers (e.g medical services, security services, helicopter charters) and boosts convenience
Audits and reporting – pre and post-trip management information, complete audit trail, refund tracking and reporting, simple reconciliation and approval processes, and provides total visibility of the total costs of travel including both direct and indirect costs
ATPI Door to Deck™
A dedicated service to support shipping and energy clients in getting their crew and rig personnel from their point of origin to the destination port / heliport and vice versa. The service seamlessly ties in with ATPI Griffinstone's core crew travel management offering, providing clients with one contact and one invoice for the complete travel cycle.
Key functions include:
Meet & Greet at airports, including assistance with immigration formalities
Transportation from home to the airport and from airport to port or heliport
Ferries and launches
Hotels
Other related services such as visas, port clearance documentation, notifications to master/port agent, OK to boards, payment cards, mobile phone sim cards
The ATPI Group has a network of over 100 offices worldwide and has successful operations in corporate travel, shipping and energy travel, sports and corporate event management and online travel technology.
For more information please visit www.atpi.com