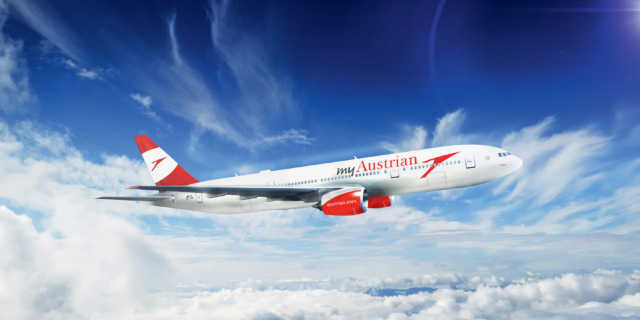 Fly with Austrian Airlines to a total of 107 destinations in 56 countries in its winter flight schedule
New in the winter 2016/17 season: Havana, Hong Kong and Shanghai
Bilateral flight traffic between Germany and Austria further extended
Austrian Airlines is offering its passengers a wide-ranging offering of 107 destinations in 56 countries in the winter 2016/17 season. The Austrian flag carrier is increasing focusing on tourist destinations in the winter months. For example, it is deploying a Boeing 767 for one flight per week to the new destination Havana, Cuba. Austrian Airlines is flying to Cuba since October 25th, 2016.  In addition, it is offering up to two flight connections each week to the Maldives and Mauritius. The winter flight schedule includes a weekly flight to Colombo, Sri Lanka and up to two weekly flights to Marrakech.
«In the coming winter season Austrian Airlines, member of Lufthansa Group, is offering even more choices for winter holidaymakers and business travelers. The new enhanced winter schedule includes not only traditional winter destinations, but also a network of sunny destinations which compensates for the strong seasonality of the airline's operations in wintertime. In addition, the airline offers a variety of choices for long distance trips, by offering flight services to destinations in Asia, the Caribbean, North America, the Middle East and Africa, most of which are very popular with the Greek travelers», mentioned Mr. Konstantinos Tzevelekos, General Sales Manager for Greece and Cyprus, Lufthansa Group.
According to the winter timetable 2016/2017 Austrian Airlines offers flight service from Greece to Vienna up to 13 times/week (up to 9 flights/week will be offered from Athens and 4 flights/week from Thessaloniki), while 11 flights/week will be offered from Cyprus. From the Vienna Hub travelers can access the international network of Austria's national carrier.
Many long-distance destinations in the flight program
In Asia, the airline is now flying to the two new destinations Hong Kong and Shanghai. With Beijing, Bangkok, Colombo and Male, there are a total of six Asian destinations that are directly connected from Vienna. In addition, there are five destinations in North America: New York, Chicago, Miami, Washington and Toronto. In the Caribbean, the airline is again flying to Havana, Cuba. In Africa and the Middle East, the airline offers five destinations each.
Bilateral flight traffic
Austrian Airlines is further expanding bilateral flight traffic between Austria and Germany, offering four additional flights per week to Hamburg and Dusseldorf starting with the winter 2016/17 flight schedule. Thus, the airline will fly up to 17 times each week to Hamburg and operate up to 18 weekly flights to Dusseldorf. All, Austria's red-white-red carrier will offer up to 293 flights per week between Austria and Germany, including up to 115 flights from Austria's federal provinces and 178 from its flight hub in Vienna. This includes flights from Graz, Innsbruck, Klagenfurt, Linz, Salzburg and Vienna to Berlin, Dusseldorf, Frankfurt, Hamburg, Cologne, Leipzig, Munich and Stuttgart. Accordingly, Austrian Airlines is further expanding its leading position featuring the most frequencies and largest seat offering between the Alpine Republic and neighboring Germany.
Specialist for Eastern Europe
Austrian Airlines continues to be the market leader among all Western European airlines flying from one hub for flights to Eastern Europe. Austria's national carrier is offering flight service to 35 destinations in the coming winter. This includes two destinations in Russia, namely Moscow and Krasnodar. The flight offering of Austrian Airlines encompasses four destinations in the Ukraine i.e. Kiev, Dnepropetrovsk, Lviv and Odessa. Austrian Airlines flies to Bucharest, Iasi and Sibiu in Romania. In addition, it offers flights to Cluj, Romania in cooperation with its code share partner Tarom. As a result, its service to Romania consists of four destinations. In total, Austrian Airlines flies to 84 destinations in Europe this winter.
Lufthansa Group
In the upcoming winter 2016/17 flight schedule, the Lufthansa Group airlines – Austrian Airlines, Brussels Airlines, Eurowings, Lufthansa and Swiss International Air Lines – are offering their customers exactly 19,838 weekly flights around the world. The Lufthansa Group airlines connect 255 destinations in 101 countries via their flight hubs of Frankfurt, Munich, Zürich, Vienna and Brussels as well as many point-to-point routes. In addition, more than 18,000 code share flights with approximately 30 partner airlines complement the respective flight offering, providing passengers with an almost complete global network. Passengers can count on the top notch service, quality and reliability of the Lufthansa Group.