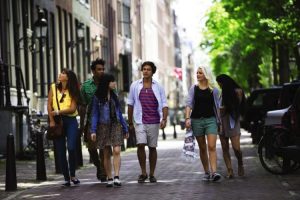 Latest youth travel topics at ITB Berlin – first Social Media Travel Youth Award – launch of the Speed Dating event with youth travel buyers – fascinating projects for families and pupils on the weekend in Hall 4.1
At the German youth travel pavilion of Youth Incoming Germany (YIG) teachers can find out more at the world's largest travel trade show about holiday camps, school trips and project excursions, and over the weekend parents and pupils can get first-hand information about school trips and holiday travel in Hall 4.1.
Two events will be celebrating their debut on Wednesday, 9 March 2016. Taking place on the big stage in Hall 4.1, this is the first time the Social Media Travel Youth Award will be presented to youth tour operators who are successfully using Facebook, Instagram and similar platforms. Furthermore, the first YIG Speed Dating event will give selected youth travel buyers an opportunity to meet with exhibitors in the YIG Lounge.
ITB Youth Travel Summit and teacher training workshops
On the trade visitor days the agenda will feature youth travel topics, with leading speakers taking part. In addition to lectures on 'health in youth travel' and 'creating sustainable youth travel', marketing experts will be giving their accounts of this segment from their point of view. On Thursday Elke Urbansky, from Lower Saxony's regional forestry administration, and Jens Wiesehöfer, managing director of KB&B The Kids Group, will have information on how to target the rural accommodation market. On Friday, 11 March 2016, together with other industry insiders, Phillip Winter of A&O Hotels and Hostels will be taking a look at 'careers in tourism'. Together with the Deutsches Jugendherbergswerk, Jugendpresse Deutschland will be addressing the topical theme of 'flight and migration'. The Wyse Travel Confederation is due to organise over ten workshops at international level. Youth and student travel experts will be presenting the latest trends, research findings, case studies and examples of best practices.
The programme of this year's Youth Travel Summit, the fifth edition, is now even more extensive. International experts will be presenting youth and student travel surveys: how are the new travel habits of young people affecting the tourism market? How are successful European cities taking advantage of their universities in order to maximise the tourism market's potential? How are destinations and tour operators benefiting economically and socially from school trips? Samuel Vetrák, CEO of the consultancy StudentMarketing, will be outlining the latest trends in the youth travel market and explaining student mobility.
Class trips on the weekend for the public with pupils and parents
On the weekend of 12 and 13 March visitors to the German pavilion of YIG in Hall 4.1 will be able to get first-hand information on school trips and holiday travel. For the first time Germany's large youth travel organisations will be jointly represented. At ITB Berlin, supervised by Reisenetz e.V., the German specialist youth travel association and, under the heading of 'youth travel organisations', six leading organisations will be represented on one stand and giving advice to teachers, parents and pupils at the fair. At the same time Reisenetz e.V. will present its first youth travel guide with information drawn from every organisation. This is where parents and interested readers can find out everything they need to know about suitable trips for pupils and young people as well as qualified and trustworthy tour operators.
On Saturday, 12 March 2016, together with a female cartoonist, the organisation Naturfreundejugend will present an exciting project, and the Merian-Oberschule will have information on a tourism management course. This project is the only one of its kind to be offered by a Berlin school and is being realised in cooperation with Welcome Berlin Tours. Taking as their slogan 'teaching in a different place'' pupils accompany other pupils on guided city tours which they organise themselves.