Limited Airlift Capacity With US and Chinese Markets Adds More Woes To Hellenic Hopes For Mega Cruise Vessel Deployment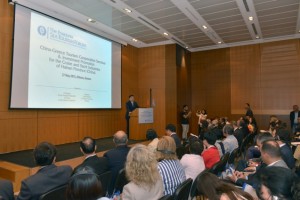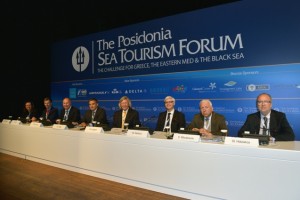 Greece has failed to benefit from the exponential growth of Europe's cruise market as investment in port infrastructure required to cater to cruise liners has declined by a whopping 80 per cent over the course of the last ten years according to experts debating the potential of sea tourism for Greece and the Eastern Mediterranean during the 3rd Posidonia Sea Tourism Forum that concluded in Athens yesterday.
Only a few of Greece's 1,150 ports and port like structures have the adequate basic facilities to cater to the cruise liners and even less can accommodate the mega vessels of 4,000 passengers which have been sailing since 1996 and still cannot be berthed almost anywhere in Greece.
And while the port of Piraeus is planning a tender for a Euro 136mn project for the construction of quay walls and berths for the accommodation of three new generation cruise vessels, Greece has still much to do in order to leverage its undisputed competitive advantages and establish itself as a global cruise hub.
"Tourism is Greece and Greece is tourism," said Michel Nestour, Vice President, Destination Development, Carnival Corporation PLc, the world's largest group of cruise companies. "Greece has failed to leverage its natural beauty and ideal location because it lacks in basic infrastructure not just at its few ports but also in road transportation as well as flight connections with key feeder markets which are necessary in order to attract the big cruise liners," said Nestour.
And with an average of 1.7 daily flights connecting Athens International Airport with New York's JFK, the only available route between the two countries, it is not surprising that global cruise players such as Royal Caribbean Cruises believe that Greece's limited airlift capacity is not conducive to mega vessel deployment in the region. "With 50 per cent of our customers coming from the US market this presents a major challenge for us," said Adam Sharp, Head of Port Operations & Guest Port Services EMEA, for Royal Caribbean Cruises, who also cited bureaucracy and long immigration queues as further obstacles hampering the appeal of Greece as a tier one destination for major cruise liners.
With the US market largely isolated by the Greek sea tourism product, the country pins its hopes to the emerging Chinese market which is currently underrepresented in Greece barely attracting just 100,000 of the annual 100mn outbound Chinese tourist trips annually. Flight connectivity between the two countries is a significant barrier which needs to be addressed with the introduction of direct flights between key Chinese hub cities and Greek tourist destinations, according to H.E. Zou Xiaoli, Chinese Ambassador to Greece, who was addressing the Forum's delegates during the China – Greek Tourism Cooperation Seminar & Investment Promotion for the Cruise & Yacht Industries of Hainan Province.  
"The way of travel for Chinese people is changing from sightseeing and shopping to leisure and holiday-making and the only sure thing is that sea tourism will become a new favourite for the Chinese," he said adding that the visa issue is yet another barrier that needs to be addressed.
"With its numerous islands, the combination of beautiful natural sceneries of profound history and culture, its unique geographical location, the pleasant climate, food and warm-hearted people, Greece will surely attract more and more Chinese people. The Aegean sea in particular is a charming and romantic destination for the Chinese," he added.
But for more Chinese to come and savour the magic of the Aegean and Ionian Seas, Greece needs to heavily invest in its tourism infrastructure and treat its ports as strategic assets in order to deliver outcomes such as sustainable jobs creation, according to Nestour.
"Greece could accelerate its own cruise momentum like Barcelona has done in the past which is number one in Europe. Savonarola is also another example with one million passenger movement just because they treated this as a long term strategic partnership with a cruise liner," he said.
The 3rd Posidonia Sea Tourism Forum is organised under the auspices of the Greek Ministry of Economy, Infrastructure, Maritime Affairs and Tourism, the Hellenic Chamber of Shipping, the Greek Tourism Confederation (SETE), the Association of Mediterranean Cruise Ports (MEDCRUISE), the Hellenic Ports' Association (ELIME), the Greek Marinas' Association, the Association of Passenger Shipping Companies, the Union of Greek Ship Owners & Associated Members and the Hellenic Association of Travel & Tourism Agencies.
Gold Sponsors are the Greek National Tourism Organisation and the Piraeus Port Authority, Silver Sponsors are Air France – KLM – Delta, the Hainan Department of Commerce, the Hainan Provincial Tourism Development Commission and Hainan Port Office and Bronze Sponsors are Celestyal Cruises, RINA, Lake Vouliagmeni and Aktina Travel.