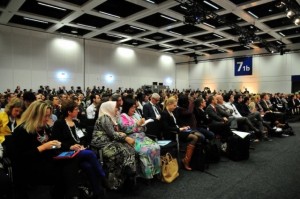 New information and expert knowledge from leading speakers representing industry, science and politics – focus on the sharing economy at this year's convention – admission is free for trade visitors
Once again, this year's ITB Berlin Convention will feature outstanding speakers from all parts of the world. From 4 to 6 March 2015 visitors to the international travel industry's leading think tank can find out about the latest industry developments, trends and research results from 200 keynote speeches, interviews and panel discussions. The focus will be on the sharing economy which will be the subject of various papers and discussions. Admission to the ITB Berlin Convention is free of charge for trade visitors.
Two high-ranking political figures, H.E. Oyunkhorol Dulamsuren, Minister of the Environment, Green Development and Tourism of Mongolia, this year's partner country, and the Hon. Hisham Zaazou, the Egyptian tourism minister, will be welcoming visitors to the ITB Berlin Convention. On the Wednesday of ITB, at one of the first sessions of the event, Philip C. Wolf, founder of Phocuswright, and Darren Huston, president & CEO of the Priceline Group, Booking.com, will be speaking about the future of the worldwide online travel market. Afterwards, April Rinne, an advisor on the sharing economy, will be discussing whether this new trend is overhyped or whether it really does represent a paradigm shift in the tourism industry. Dr. Wolf-Dieter Zumpfort, member of the board of the Friedrich-Naumann Freedom Trust and former director of TUI AG, will hold a brief paper on the topic of visiting conflict regions and countries with authoritarian regimes. At one of the following sessions Erich Sixt, member of the board of Sixt SE, will be talking about the key to a successful career in tourism.
On 5 March at the ITB Hospitality Day the CEO Panel will be looking at 'Design and digitisation'. Gesine Haag, a digital entrepreneur and the founder of Barefoot Living, is currently working on the barefoot living hotel concept with Til Schweiger, and will be highlighting how the hospitality industry can successfully reinterpret the consumer trends and desires found in other sectors. At the ITB Ministers' round table the focus will be on the opportunities and risks of large-scale sports events. After an introductory paper by Prof. Dr. Wolfgang Maennig, professor of International Sports Economics at the University of Hamburg and Olympic gold medallist in 1988, together with other tourism ministers Iris Gleicke, parliamentary under-secretary at the Federal Ministry of Economics and Technology; the Hon. Derek Hanekom, minister of tourism of South Africa; the Hon. Vinicius Nobres Lages, minister of tourism of Brazil; and Dr. Taleb Rifai, secretary general of UNWTO, will be discussing experiences with previous large sports events and existing plans for future events. At his workshop Stephen Taylor, vice president of International Sojern, will be examining the potential of big data and be showing how it can be used to measure and optimise performances and conversion.
Prof. Dr. Martin Lohmann, managing director of NIT New Insights for Tourism Kiel and of Forschungsgemeinschaft Urlaub und Reisen e.V., Kiel, Leuphana University of Lüneburg, will be taking a look at travel market trends in 2025. FUR has included the most recent data in its much-noted 2015 trend survey and thus is able to provide a detailed picture of tomorrow's travel market in Germany. On 6 March at the Africa Forum the panel guests will be debating how destinations can establish unique brands for themselves in order to ensure they can be distinguished from conflict regions. After a brief introductory paper by Roland Gassner, marketing manager of Travel & Tourism GfK, at an event moderated by award-winning radio presenter Diane Hielscher, a discussion will take place with Digu //Naobeb, CEO of Namibia Tourism Board; Tom Buncle, managing director of Yellow Railroad Ltd. International Destination Consultancy; Elcia Grandcourt, programme director, Regional Programmes, Africa World Tourism Organization (UNWTO); Obenne Mbaakanyi, marketing manager of Botswana Tourism Board; and Stephen Mwansa, the permanent secretary of the Ministry of Tourism and Arts of Zambia. At the ITB Future Day a panel discussion will be debating the digital revolution and how companies can survive in a highly contested, disruptive and competitive market. After a brief introductory paper by Dr. Uwe Dumslaff, CTO of Capgemini, Thomas Helbing, CEO of Ray Sono AG and Marco Ryan, Chief Digital Officer and member of the Digital Advisory Board of Thomas Cook Group, will be discussing how the digital revolution can succeed in the tourism industry and what can be learned from other sectors. Prof. Dr. Roland Conrady, the science head of the Berlin Convention and president of Deutsche Gesellschaft für Tourismuswissenschaft DGT e.V., Hochschule Worms, will moderate the event.
Caroline Bremner, head of Travel Euromonitor International, will be highlighting the latest trends and the future prospects for the sharing economy. Strategic analyses will illustrate how structures in the global tourism markets will change in the future. Euromonitor is the media partner of the ITB Convention 2015.
Moderated by Chris Hayman, chairman of Seatrade Global, a panel discussion will be discussing new cruise markets. Frank Horch, senator, Hansestadt Hamburg; Captain Michael McCarthy, chairman of Cruise Europa; Dr. Jörg Rudolph, general manager of RCL Cruises Ltd. for Germany, Austria and Switzerland; Michael Ungerer, president of AIDA Cruises; and Michael Zengerle, managing director of MSC Kreuzfahrten, will be discussing what demands cruise lines can make on destinations and ports and what can be learned from established cruise markets.
ITB Berlin app: the complete guide to ITB Berlin on your smartphone
Visitors who have the free ITB Mobile Guide app are always well informed. It provides a wealth of useful information for visiting the fair. Under the heading of 'What's on' users can find a list of events currently taking place and all the main information about the show under the menu item 'A to Z service'. The map of the grounds is linked to all the hall plans and this year features an even better view of the halls. It also has a new interactive feature with information on catering and shuttle transport services, for example. The app provides an event overview of press conferences, presentations and receptions, as well as full details of the programme of the ITB Berlin Convention including all the speakers. If desired, users can follow the lectures and discussions at the conference via a live feed. The app also offers a list of all the exhibitors with detailed descriptions, logos and product information. Users can let the app synchronise their favourites from the Virtual Market Place. An optimised search function now makes it even easier to look for exhibitors and events. The ITB Mobile Guide will be available at the end of February from the App Store and Google Play. An iPad version will also be available. The ITB Mobile Guide is distributed by wohlgemuth + team gmbh – Agentur für digitale Messemedien.