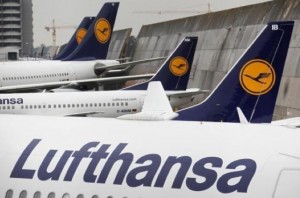 Lufthansa's short- and medium-haul services likely to be severely disrupted by pilots' strike on 20 and 21 October / first special timetable published today 20 October, around 19:00 on www.LH.com  / customers asked to check website for details
Lufthansa has announced special timetables for the next two days in response to planned strike action by its Vereinigung Cockpit pilots' union. The union has called for a nationwide strike affecting all Lufthansa flights operated with Airbus A320-family, Boeing 737 and Embraer aircraft from 13:00 CEST on Monday 20 October to 23:59 CEST on Tuesday 21 October.            
A first special timetable, valid for the first 24 hours of the strike, was placed on the www.LH.com website around 19:00 yesterday evening. A second special timetable for the remaining strike period was published today (Monday 20 October) around 13:00. The special timetables are also intended to ensure that Lufthansa services can be returned to normal once the strike is over.
In view of the length of the strike action called, Lufthansa's short- and medium-haul services are likely to suffer substantial disruption during the strike period. But as part of its special timetable preparations, the company is currently determining which flights can still be operated. Lufthansa's long-haul services will operate normally today (Monday); but travellers are still asked to check the status of their flight prior to their departure. The company's www.LH.com website is the best place to do so.
Travellers whose flight is cancelled as a result of the strike action have the options of rebooking or cancelling their ticket free of charge. Customers who have booked a Lufthansa flight for 20 or 21 October can also rebook their ticket once free of charge even if their original flight is expected to operate. Tickets for travel within Germany can also be exchanged for a rail ticket on www.LH.com or at any Lufthansa QuickCheck-In machine.
The flights of sister Lufthansa Group carriers Austrian Airlines, Brussels Airlines, Germanwings, SWISS and Air Dolomiti (operated by OS, SN, 4U, LX and EN) will operate normally during the strike period. Lufthansa Cargo, too, remains largely unaffected. Germanwings is currently studying whether it can operate up to four Lufthansa flights that would otherwise be cancelled as a result of the strike action. And Lufthansa's personnel are doing their utmost to ensure that travellers – and connecting passengers in particular – can be rerouted via the Lufthansa Group's Zurich, Vienna and Brussels hubs wherever possible to get them to their destination on time despite the strike action. Customers who have provided contact details will also be informed by email or SMS text message of any changes to their flights.        
Vereinigung Cockpit disagrees with Lufthansa's intention to redesign pilots' current transitional benefits. However, the German airline considers the proposed transitional benefits to be among the best (if not the best) in global aviation industry. Furthermore, Lufthansa has stated its intention to open a dialogue with the representatives of the union, who have not made any proposals so far.