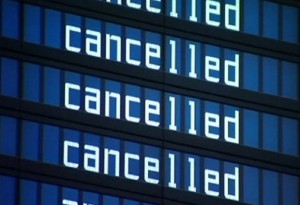 Strikes are not a solution for shared challenges Lufthansa said
Second strike of VC within 7 days will particularly affect many thousands of summer holidaymakers, commuters and business travelers on September 5 / Initial information about flight timetable was available yesterday evening at www.LH.com and will be continuously updated today
Lufthansa deeply regrets that the Vereinigung Cockpit pilots' union has not refrained from causing massive disruption to flight operations in the peak holiday period at the end of the school holidays in Hesse and Rhineland-Palatinate in order to push through its own interests. Having already severely restricted flight operations at Lufthansa's subsidiary Germanwings for six hours last Friday, Vereinigung Cockpit is now set to affect Lufthansa in Frankfurt. The strike will impact on domestic German and European flights from
Frankfurt between 5.00 pm and 11.00 pm today, September 5. As a result of the strike, European and domestic German flights from Frankfurt will also be cancelled. In total, it is estimated that more than 200 flights and more than 25,000 passengers will be affected.
In order for flight operations to return to normal as quickly as possible after the end of the strike, individual flights from Frankfurt will have to be cancelled today, from 1.30 pm onwards and from 4.00 pm onwards the majority of domestic German and European flights scheduled to depart from Frankfurt will also be cancelled.
Kay Kratky, member of the Lufthansa German Airlines Board with responsibility for Operations and the Frankfurt Hub, explained: "The renewed strike by the Vereinigung Cockpit pilots' union is an imposition on our customers. The timing in particular is unacceptable, as the last weekend of the school holidays in Hesse and Rhineland- Palatinate and Saarland is the peak travel period for families. Commuters and business
travelers will also face particular disruption on a Friday afternoon. Since the strike was announced after 5 pm yesterday evening already, we have not been able to increase our Lufthansa Call Center capacity in good time. However, we will now do everything within our power to minimize the impact of the strike on our passengers."
From Lufthansa's point of view, the strike is incomprehensible, since the Company is offering pilots transitional benefits that are generous by industry standards, both now and in the future. In specific terms, Lufthansa agreed in the pay talks to retain the transitional benefits for pilots who have been working at the Company since before 1 January this year. The retirement plans of older pilots would not be affected at all by any change in transitional benefits.
The aim is merely to ensure that early retirement from active flight service can be financed in the long term by making a gradual, age-related change from the current entry age of 55 to 60. At present, pilots at Germanwings and Lufthansa Cargo are eligible for transitional benefits once they reach 60. Each of these regulations has been collectively agreed with Vereinigung Cockpit.
Even in the event of new transitional provisions, all pilots will continue to be able to utilize insurance covering incapacity for flight service without any restrictions and regardless of their age if they are no longer capable of flying for physical or psychological reasons.
Significant disruptions to flight operations are to be expected during the strike, especially on domestic German and European routes from Frankfurt. In all probability, the strike will not affect long-haul flights or flights from Lufthansa's Munich hub.
Tickets for domestic German flights can be exchanged for train tickets at www.LH.com or at Lufthansa self-service check-in kiosks. Passengers whose flight was cancelled as a result of the strike can re-book their flight once, free of charge, or cancel it outright at no extra charge. Passengers who have a ticket for a flight to, from or via Frankfurt today, Friday September 5, can rebook their ticket, free of charge, even if their flight is not
affected by the strike.
Lufthansa customers can find information about their own bookings and changes to the flight timetable on the website www.LH.com. The initial information about cancellations was already published yesterday evening and will be continuously updated today.
Customers who have provided their contact details will be notified of changes to the flight timetable by Lufthansa via text message and email. The Company advises all Lufthansa customers with a booking during the strike period to check the status of their flight as early as possible on www.LH.com.