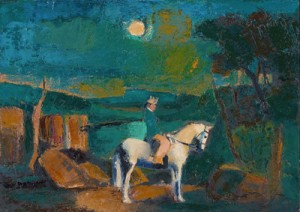 Hellenic American Union in cooperation with Hellenic American College and "Odos Panos" Magazine and Publications present the retrospective painting exhibition "Dimitris Laletas (1964-2011), The Journey: Alexandroupoli-Athina-Alexandroupoli."
The exhibition opening will take place on Monday, September 16, 2013, at 19:30, at the Hellenic American Union Kennedy Gallery and Theater (Massalias 22, Kolonaki). The exhibition will be open to the public until October 12, 2013.
At the opening, actress Filareti Komninou will read out texts about Dimitris Laletas and Marilena Laskaridou will speak about the painter's book collection which has been donated to the "Ekaterini Laskaridou Foundation" in Piraeus. Ilias Lioungos will be performing 7 songs accompanied by Despina Stefanidou on the piano.
Exhibition opening
Monday, September 16, 2013, at 19:30
Duration
September 16 – October 12, 2013
Monday-Friday 12:00-21:00, Saturday 10:30-14:30, closed on Sunday
Address
Hellenic American Union, Massalias 22, Kolonaki
Admission is free