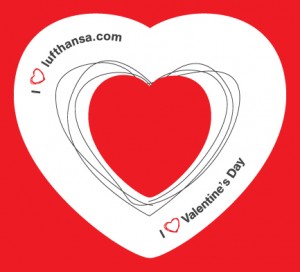 Be informed, be linked and take the chance to win a trip for two to Munich!
Love is in the air and so is Lufthansa's new promotional campaign "I love lufthansa.com, I love Valentine's day,", which will be taking place at Athens International Airport, starting on February 4th until February 14th. For 10 days, travellers will have the opportunity to get special Valentine gifts and a chance to win a trip for two to Munich, just by subscribing to Lufthansa's online newsletter for free!
Lufthansa, one of the most prestigious and popular leisure and business travel airlines, never stops to benefit its esteemed passengers with special promotions and raffles. The best way to always stay updated is to be linked with lufthansa.com and subscribe at the airline's online newsletter, thus constantly get real-time information on the best travel options, online travel specials and fare discounts. To provide more and more customers with this online information, a dedicated team from Lufthansa will be offering ad- hoc subscriptions to travellers at Athens International Airport, wearing the most lovable red-hearted white T-Shirts!
Things get even better, as everyone who subscribes himself to the Lufthansa newsletter will be getting a beautiful Valentine card with a chocolate and automatically enter the raffle for a trip to Munich with their beloved one. The raffle will take place early March and will include all subscriptions done at Athens International Airport and lufthansa.com during this period.
Just look for Lufthansa's red hearts at Eleftherios Venizelos and celebrate Valentine's day with exciting offers! It's free, it's fun, it's fantastic!