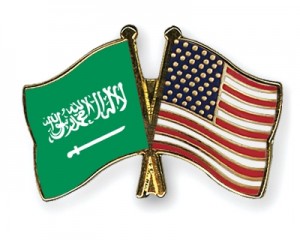 Visa applications from Saudi nationals to the United States doubled during the last four years, US Ambassador James B. Smith told newsmen yesterday. He was addressing the press on the performance of the consular department at the embassy. Deputy Consul General Cecelia El-Khatib, Consul Robin Busse and Press Counselor Mofid Deak were also present at the interaction.
Journalists were taken on a familiarization tour of the mission's consular department to get to know the procedures adopted by the embassy on the issuance of visas.
Smith said that the number of visas issued to Saudis had increased over the previous year. Some 120,000 visa applications were received last year by the US Embassy in Riyadh and its consulates in Jeddah and Dhahran. There are 70,000 Saudi students currently studying in the US, he added. "We are delighted to see Saudis visiting the US for various purposes," he noted.
Around 10,000 of the applications were refused due to failure on the part of the applicants to convince the visa officers of the real purpose of travel to the US.
Smith explained that there are three main factors involved in a visa application to the US which include the real credentials of the person, the reason for travel and to ascertain the return of the applicant to the Kingdom. There is no question of Saudis not returning to the Kingdom since most of them are sure to come back to their native place of residence, he stressed.
The envoy requested all intending visitors to the US to apply at least three months before their travel and to exercise patience during the waiting period.
He said his mission is committed to facilitating travel from the Kingdom to the US. "We have a set of dedicated staff who would maintain privacy of individuals and security of all the data provided by the applicants with strict confidentiality," he noted.
The mission received 80,216 non-immigrant visa applications in Riyadh last year, up 22 percent from 2011.
Around 29 percent of non-immigrant visa applications in Saudi Arabia were for student visas. The US Embassy issued 20,677 student visas of which 25 percent were for women.
During the press conference, Busse said: "We encourage applicants to interview at the closest location to them in order to save time and expense. The location of the visa interview does not impact the chances of getting a visa."
The US Embassy holds weekly question-and-answer sessions about visas on Facebook and Twitter (@USEmbassyRiyadh). Almost all qualified applicants who apply three months ahead of their departure date as recommended receive their visas in time. All US consular interviewing officers in Saudi Arabia speak Arabic. The US government prioritizes student visas and it makes an effort to process student visas before scheduled start dates.
"The leading cause of processing delays is applicants who have not prepared adequately for their interviews, including not having brought the proper documentation."
Source: http://www.zawya.com