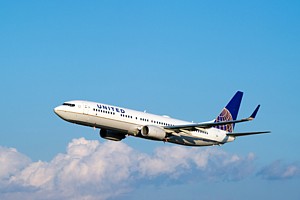 The American Hellenic Institute (AHI) met with Darren Scott, senior analyst, Atlantic Planning and International Network Planning for United Airlines, on January 17, 2013, in Chicago, to explore possibilities of establishing a direct route from a major United hub in the United States to Athens, Greece. AHI is working in collaboration with the American Hellenic Educational Progressive Association (AHEPA) to boost tourism to Greece in the effort to help its economy. One way is to improve upon the annual number of Americans who visit Greece, which is approximately 350,000, by making air travel more convenient through direct routes to Athens from the continental United States.
"We thank Mr. Scott, who took the time to meet with us on this very important issue that, if resolved, can be a tremendous lift for Greece as it endures a most challenging time," said AHI President Nick Larigakis. "We presented our position on the merits of a proposed direct route to Athens from a major metropolitan U.S. hub of United. In turn, United presented its position based upon the current market conditions. We are pleased that we have agreed to maintain dialogue on this issue, and we look forward to working with United in an exchange of idea and data with the goal of one day establishing a direct route to Athens."
AHI Board Member Kostas Alexakis accompanied AHI President Larigakis to the meeting. AHEPA Executive Director Basil Mossaidis also participated via conference call.
In March 2012, AHI and AHEPA sent a joint letter to United to express their disappointment with its November 2011 decision to terminate the seasonal non-stop flight from Newark (EWR) to Athens, Greece, which was a Continental route.
"At the end of the day, it is crucial for United Airlines, the world's largest airline with 6,000 flights a day, offer a direct route to Greece, which is one of the world's Top 20 premiere tourist destinations and one of the most culturally and historically rich countries in the world," Larigakis said.
The American Hellenic Institute is an independent non-profit Greek American public policy center that works to strengthen relations between the United States and Greece and Cyprus, and within the Greek American community.