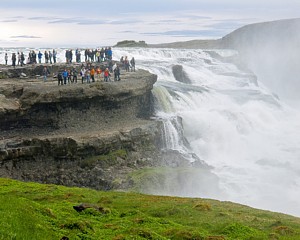 A 'real life' Icelandic rescue tour has picked up the award for 2012 Best Fair Deal Tour, an award scheme launched by the European Federation of Tourist Guide Associations (FEG)
A tour conducted by a qualified Icelandic Tourist Guide, also working as a volunteer for ICE-SAR [Icelandic Association for Search and Rescue], has been awarded the 2012 Best Fair Deal Tour by FEG. The tour is operated by Iceland Travel via their cruise services as a shore excursion and offers both an adventurous tour of a spectacular landscape and a unique insight into the work of ICE-SAR. The approach of Iceland Travel – who works only with licensed suppliers, thereby ensuring the delivery of quality services – is what makes this tour not only a fair deal to everyone involved and thus a sustainable tour, but also clearly a definite commercial success.
Qualified Tourist Guide doubling as ICE-SAR volunteer
It is the combination of the two roles of Qualified Tourist Guide and ICE-SAR volunteer which offers the client such a unique experience; it is the ICE-SAR volunteers who are often the first on site when disaster strikes in Iceland, be it a volcanic eruption or a snow avalanche, on hand to save lives and offer emergency assistance. The Iceland Travel tourist guide will offer you an unparalleled insight into his / her own experiences as a volunteer while at the same time using his/ her professional skills as a tourist guide to give you an unprecedented 'off the beaten track' safari in a 4 x 4 truck of Iceland's fascinating but volatile terrain. The tour includes a visit and presentation at an ICE-SAR team HQ in Reykjavik and Iceland Travel makes a small donation on behalf of each participant to ICE-SAR.
A Fair Deal Tour gains by giving something back
The tour introduces the guest to the daily – and crucial – work of the unsung heroes, the ICE-SAR volunteers, who literally save lives, and also highlights the important work of ICE-SAR to the whole of the Icelandic community, inhabitants and visitors alike. As a professional, trying to earn a living through his/her local expertise, the qualified tourist guide chosen and employed by Iceland Travel has, on the other hand, the opportunity to not only utilize his/her valuable guiding skills, but also to offer a firsthand unique insight into life in Iceland. Everybody involved benefits, no one is unfairly exploited and this makes for a sustainable tour in the long term.
Congratulations – and how to celebrate!
The European Federation of Tourist Guide Associations [FEG] would like to warmly congratulate Iceland Travel and all those who operate this tour on winning this prestigious award. We hope its success continues and look forward to hearing of Iceland Travel's plans for creating more sustainable – adventurous and enjoyable – fair deal tours in 2013!
The Awards
The Fair Deal Tours awards are part of a serious effort by FEG – which represents some 60,000 qualified tourist guides in Europe – to raise awareness for what is still sorely lacking in many areas of the tourism industry: transparency, quality, standards and a more sustainable approach.
What is a Fair Deal Tour?
A fair deal tour is a tour that is advertised and sold transparently, explaining exactly what you get and where no one is exploited. It's a tour where all those engaged have all the necessary qualifications and a long-term responsible approach to their activity. It also takes into account the effect tourism might have on the cultural and natural heritage and the communities where the tours take place.
With the continuing growth of tourism into previously less known areas comes a need for an increasing awareness of 'the other side of the coin'. Calls for liberalisation and less regulation must not impact negatively on our ever more fragile environment, where history, culture and ecology – as well as tourists and those who guide them – interact as elements of our civilization.
Nominate your own favorite candidate in 2013
Opportunities to nominate the Best Fair Deal Tour 2013 and Best Fair Deal Tour Operator / Travel Agency 2013 will open in March 2013 and will be advertised online.
For a full list of criteria and more details, please go to www.feg-touristguides.org
To receive a nomination form, please email secretariat@feg-touristguides.org