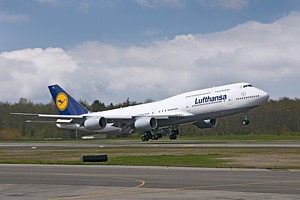 Lufthansa initiated commercial service Monday of the Boeing 747-8 Intercontinental along the airline's Frankfurt (FRA) to Los Angeles (LAX) route.  Flight LH456 departed Frankfurt touched down at LAX at 1:15 p.m.  The City of Angels is just the second destination in the U.S. and fourth in the world designated for service of the new jumbo jet.  The regularly-scheduled return flight, LH457, departed LAX at 3:45 p.m. arriving in Frankfurt shortly after 11 a.m. the following day.  Lufthansa's newest flagship aircraft will provide daily service between the two cities, increasing capacity on this route by 17 percent.  Flights are available for booking on www.lufthansa.com. 
            A celebratory water cannon salute greeted the new "Queen of the Skies" as the aircraft taxied to a gate located at the Tom Bradley International Terminal.  Nearly 200 corporate customers, airline and aircraft partners and media attended the celebration, which included remarks by Los Angeles City Councilmember Tom LaBonge; Deputy Mayor Matthew Karatz of the Office of Economic and Business Policy; Elizabeth Lund, Vice President and Chief Project Engineer of the 747 program at Boeing; Los Angeles World Airports Executive Director Gina Marie Lindsey; and Juergen Siebenrock, Vice President, The Americas for Lufthansa.
            "The selection of Los Angeles for our new flagship aircraft demonstrates the market's critical importance for Lufthansa, which has had a presence in Southern California since 1960," said Juergen Siebenrock.  "The Frankfurt – Los Angeles route connects the world's two largest and most influential consumer markets for entertainment products – Hollywood and Germany.  LAX is also an active gateway for the pharmaceutical, IT, automotive industry and defence contractor industries, all of which are important customer segments for Lufthansa."
            "We are honored Lufthansa chose LAX for this new, historic service that will greatly enhance the passenger experience," said Gina Marie Lindsey.  "Lufthansa is the only international carrier offering daily service on a new-generation Boeing 747-8 Intercontinental jumbo jet between Europe and the U.S. West Coast."
            Lufthansa's 747-8 Intercontinental is equipped with 386 seats in a three-class configuration (eight First Class, 80 Business Class and 298 Economy Class).  Passengers flying on the 747-8 Intercontinental will experience Lufthansa's new Business Class, which offers a unique seating arrangement in the form of a "V" whereby two neighboring seats are angled towards one another along a central axis. This innovative solution enables Lufthansa to fulfill one of the main wishes expressed by customers during an extensive research process – to sit or lie facing the direction of travel.  At the same time, passengers enjoy virtually double the distance between two neighboring seats at shoulder level, providing greater privacy and more personal living space. At the push of a button, the seat converts to a full-flat, horizontal sleeping surface measuring 6'6" in length (1.98 m). Ergonomically improved cushioning ensures a high degree of comfort in a sitting or horizontal position, and adjustable armrests provide more space in the shoulder area when lying down.
            The aircraft generates a 30 percent smaller noise footprint than the 747-400 and brings double-digit improvements in fuel efficiency and CO2 emissions per passenger, making it one of the industry's most fuel-efficient aircraft and key to Lufthansa's commitment to sustainable reduction of carbon dioxide emissions. The 747-8 Intercontinental fuselage is 250'2" long, which is 18'4" longer than the 747-400. The stretch also provides Lufthansa with 26 percent more cargo volume.  The Boeing 747-8 Intercontinental features new, state-of-the-art wings with improved aerodynamics and raked wing tips; new fuel-efficient, U.S.-manufactured GEnx-2B engines that contribute to a reduction in fuel burn, emissions and noise and thus give customers the lowest operating costs and best economics of any large passenger airplane; and fly-by-wire technology.
            Lufthansa's commitment to the Boeing 747-8 Intercontinental is a testament to the airline's 50-plus year partnership with the U.S.-based manufacturer.  Lufthansa currently has 20 Boeing 747-8 Intercontinentals on order. In addition to Los Angeles and the inaugural market of Washington, D.C., Lufthansa operates the 747-8 on its Delhi and Bangalore routes and plans to roll-out service to additional gateways in the near future.
            The public can track the progression of the 747-8 Intercontinental into Lufthansa's service via a dedicated 747-8 Intercontinental micro site (www.lufthansa.com/747-8) that showcases product features along with 3-D models of the aircraft and interactive games.