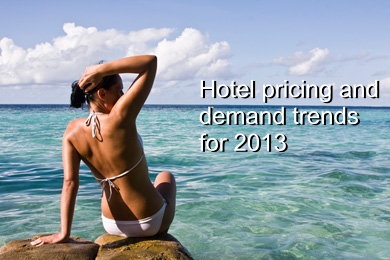 The best hotel marketers are those who can not only keep pace with the world around them but also anticipate and act on future trends before they happen.
A panel of experts Tuesday attempted to cast some light on the road ahead in a Hospitality Sales and Marketing Association International webinar titled "Keeping Up with Trends." Their insights during the 90-minute session touched on a variety of topics, ranging from pricing, distribution and mobile.
Their comments boiled down to 16 key points.
Pricing
1. While the total active development pipeline is still crawling along at a rate of only 3.5%, the U.S. hotel industry likely will see an uptick of rooms entering the market, said Vail Brown, VP of global business development and marketing for STR, parent company of HotelNewsNow.com.
There are 24% more rooms under construction to date than during 2011, she said, most of which are concentrated in the limited- and select-service sectors.
2. "We are still selling more rooms than we ever have before and expect that growth to remain strong in 2013," Brown said.
3. However, corporate demand varies by sector, said Ash Kapur, VP of revenue management and distribution for Starwood Capital Group. The technology sector, for example, is "extremely strong," whereas the financial, pharmaceutical and energy sectors are exhibiting some weakness.
4. Groups, Kapur said, will continue to be a mixed bag depending on the market. But "2014 is expected to be stronger for groups than 2013," he added.
 
5. Widespread demand in general will give hoteliers increased pricing power, panelists said.
"2013 is going to be the year to focus on rates," Kapur said, adding Starwood Capital is forecasting revenue-per-available-room gains across its portfolio "mostly driven by rate."
STR's 2013 U.S. forecast calls for a 4.6% increase in average daily rate, Brown said.
Distribution
6. Search-engine optimization and pay per click will continue to be top of mind for marketers, Kapur said.
7. The same goes for channel-mix optimization, he added, which will be crucial in hoteliers' ability to drive rates.
8. Companies will shift even more of their focus to digital platforms, Kapur said. Traditional media, such as print, no longer will be given importance.
9. Online travel agencies are gaining, he said. Starwood Capital noted strong year-over-year increases in bookings driven through the likes of Expedia and Booking.com.
Expedia seems to be gaining share in major European gateways, while Booking.com is making headway in many tertiary markets in North America, Kapur said.
Orbitz and Travelocity, on the other hand, are becoming less relevant, he added.
10. "Google Hotel Finder is going to become more and more relevant," he said, noting Starwood Capital is using the platform for many of its hotels in Europe. Still in beta testing, the experiment has yet to generate high volumes—although Kapur thinks that eventually will change.
11. Hotel companies will begin to create new platforms—so-called "vanity" or hotel-independent sites—to increase their digital footprints and drive more traffic online, Kapur said. Starwood Capital, for example, is creating new property-specific websites that speak more directly to given markets or traveler segments than a standardized corporate website would.
Mobile and technology
12. The next 12 months will see no interruption in the thundering stampede of hoteliers to the mobile space, panelists agreed. As more Web browsing continues to happen exclusively on mobile, there is an imperative to bring brands' offerings to the third screen.
13. Travelers, by extension, will continue to clamor for more "must have" mobile devices—most of which utilize more intuitive interfaces that will allow consumers to research, search and find the best rates online, said Cristian Morosan, assistant professor at the Conrad N. Hilton College of Hotel and Restaurant Management at the University of Houston.
14. The ability to book on the road will lead to more last-minute bookings, which in aggregate will contribute to shorter booking windows throughout the industry, he said.
15. The "always on" usage patterns will allow hoteliers and guests to communicate more instantaneously—a capability consumers are beginning to expect and demand, Morosan said.
16. Mobile devices and social media platforms also will allow marketers to better target niche customer segments, he said.
Source: Hotel News Now