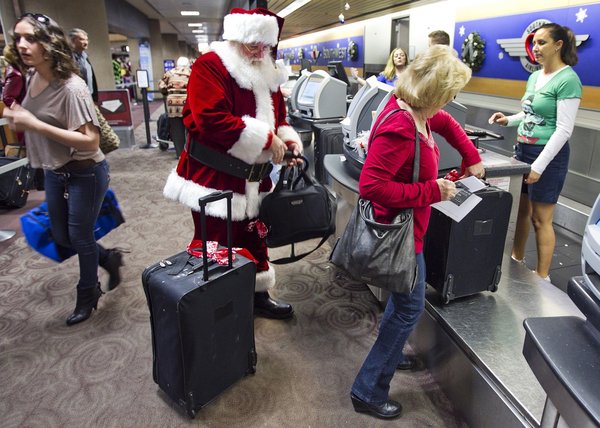 Passenger volume at Los Angeles International Airport (LAX) is expected to increase 5.38 percent to nearly 2.24 million passengers this upcoming holiday travel season, compared to 2.13 million actual passengers last year.  The 13-day holiday travel period begins Friday, December 21, and continues through Wednesday, January 2, 2013.
The busiest days at the airport are expected to be Friday through Sunday, December 21-23; Friday, December 28; and Wednesday, January 2.  The least busy days are expected to be Christmas Eve and Christmas Day, Dec. 24-25.  While airlines at LAX report an average passenger load factor of approximately 80 percent throughout the holiday period, U.S. air carriers at LAX report that many domestic flights are expected to be 90 percent to fully booked, especially on the busiest days. 
To assist with additional passengers during the holidays, a cadre of volunteer Los Angeles World Airports employees wearing red vests will roam the Upper/Departures Level curbside and in the airline ticketing lobbies today and Friday, December 20-21.  This is in addition to Volunteer Information Professionals (VIPs) and Customer Service Representatives (CSRs) regularly assigned to assist passengers at the passenger information counters and in the meet-and-greet areas on the Lower/Arrivals Level of each terminal. 
Airport officials suggest passengers departing LAX during daily peak travel periods – from 6 a.m. to 9 a.m.; 11 a.m. to 2 p.m.; and 7 p.m. to 10 p.m. – arrive in their airlines' ticketing lobbies two hours before domestic flights and three hours before international flights.  Passengers should expect congestion in the terminals during the daily peak travel periods.  Many passengers can avoid lines in the ticketing lobbies by checking in for flights on their airlines' websites.   
Because of winter weather conditions throughout the nation, passengers are encouraged to check with their airlines regarding flight status before coming to the airport or sign up to receive up-to-date phone or text message alerts.    
Passengers should also ensure any carry-on baggage complies with the airlines' size and weight limitations and that they do not contain items prohibited by federal law.  Gifts, packed in checked luggage or as carry-on items, should not be wrapped, in case federal security screening officers need to inspect them.
To eliminate the hassles of driving to and parking at or near LAX, passengers are encouraged to take convenient and reliable public transportation, including:  Metro Rail Green Line, door-to-door shuttle vans, taxis, limousines, long-distance buses, and the LAX FlyAway® nonstop bus service.  The convenient and economical FlyAway® service operates daily (including holidays) from Union Station, Van Nuys and Westwood.  Children five years old and under ride free.  Tickets for Union Station and Van Nuys service routes are now available for purchase online.  For more information, visit www.lawa.org/flyaway.
On-airport parking options include eight structures in the Central Terminal Area and Economy Parking Lot C at 96th Street and Sepulveda Boulevard.  Meeters-and-greeters can wait in the free LAX Cell Phone Waiting Lot at 96th Street and Vicksburg Avenue (adjacent to the entrance of Lot C) until arriving passengers call to say they are ready for pick up at terminal curbside.
Real-time traffic and airport weather conditions, flight status, smart traveler tips, passenger services, airline terminal locations, and other airport information are available at www.lawa.aero/lax and on LAX's social media sites at www.twitter.com/LAX_Official and www.facebook.com/LAInternationalAirport.
U.S. Customs and Border Protection's website at www.cbp.gov advises travelers on what items can be brought into the U.S. from overseas.  The Transportation Security Administration website at www.tsa.gov lists items that are permitted onboard with passengers, items which must be packed in checked luggage, and items prohibited on flights.