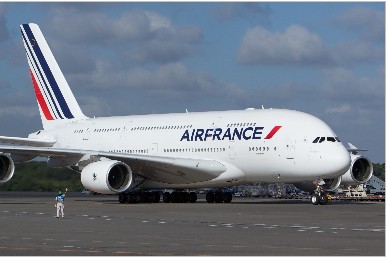 Within an unstable economic environment, the Air France-KLM Group has decided, for the 2012-13 winter season running from 28/10/2012 to 23/03/2013, to stabilize its growth in capacity* compared with winter 2011-12, including +0.5% on long-haul and -0.5% on medium-haul operations.
Stable capacity* for Air France: -0.1% on long-haul network and -0.5% on medium-haul network
For its winter schedule, Air France is adapting its flight schedule to changes on the various markets and registers a stable capacity* (-0.3%) compared with winter 2011-12.
On the long-haul network, capacity is stable at -0.1%.Air France is concentrating its growth on Asia (+4.5%), Africa (+3.9%) and the Caribbean (+3.1%).  This growth, which is made essentially by increasing the average capacity of aircraft, is concentrated on "winter season" destinations where demand is higher in winter than in summer. This winter, Air France will for example resume the seasonal services inaugurated last year to Cape Town and Cancun. In Asia, Air France will continue to serve Singapore by Airbus A380 and will increase its frequencies to Shanghai. Capacity* remains relatively stable (-7%) in North America.
On the medium-haul network, capacity is down slightly (-0.5%) with a decline in international capacity (-1.3%) and growth in domestic capacity (+1%). The launch of the provincial bases in Nice and Toulouse in spring 2012 has created additional activity, whereas the Air France Group's regional partners are reducing their operations.
 
The first measures implemented by Transform 2015
The introduction of the winter schedule allows Air France to implement the first measures of its transformation plan:
The seasonal character of the flight schedule at the Marseille, Toulouse and Nice bases  
As part of its Transform plan, Air France is favouring dynamic and pragmatic management of its flight offer. The launch of the provincial bases has allowed Air France to attract mostly leisure customers to destinations in France, Europe and the Mediterranean. As this traffic evolves in line with the seasons, the capacity offered during winter 2012-13 adapts to demand which is lower in winter than in summer with as a result service interruptions and reduced frequencies on departure from the bases.
   
A significantly upgraded service on the long-haul fleet
During the 2012-13 winter season, the service offered on board Air France long-haul aircraft will be significantly upgraded. The 7 Air France Boeing 747s are now all equipped with the latest-generation long-haul seats in the Business cabin and offer video-on-demand in all cabin classes. These aircraft will serve, among other destinations, Rio de Janeiro, Mexico and Montreal.
The Premium Economy class is now available on 98 long-haul aircraft, representing the entire fleet except for the 7 Boeing 747-400s.
More convenient arrivals for early morning long-haul flights
To minimize saturation in the baggage claim areas and at immigration on arrival at Terminal 2E at Paris-CDG, Air France will extend the arrival flight times of its long-haul flights between 05.30 and 06.55 (instead of 05.30 and 06.10). This will rapidly lead to an improved quality of service, with reduced wait times at arrivals and easier connections. A test phase will be implemented for a limited number of flights during winter 2012, with a complete roll-out scheduled for summer 2013.
 
"Air France is fully mobilized and our changing capacity is a clear demonstration of the Company transformation plan's initial impact. We are rationalizing our flight schedule to adapt it to the current economic environment while repositioning our offer to better serve our customers. As a result, starting this winter, passengers on medium-haul flights will benefit from new services, with a redesigned in-flight dining experience and greater flexibility on their trip. Our plan is contributing to a real long-term dynamic.» stated Alexandre de Juniac, Chairman and CEO of Air France.
Find all the details of the 2012-13 winter schedule on http://corporate.airfrance.com