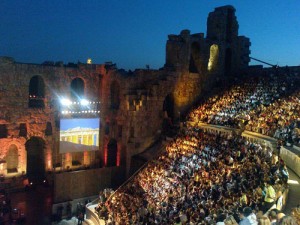 A great celebration that has lasted 56 summers, and has hosted some of the leading lights of theatre, music and dance.
Athens Festival
From Mitropoulos and Callas to Rostropovich, Pavarotti, Leonidas Kavakos and Dimitris Sgouros. From Rondiris and Koun to Streller, Peter Hall, Noh theatre, Bunraku puppet theatre, and the Peking Opera. From Balanchine to Pina Bausch, and from Nureyev and Fonteyn to Martha Graham and Alicia Alonso.
Above all, however, it is a venture with an eventful past often clouded by events in Greece's recent history. A venture that, over the last six years, has taken on a youthful vitality, and openness. A reversal of this state of affairs was clearly necessary – to pursue modernism once more, to systematically open up the Festival to cutting-edge international productions, and to promote young Greek artists who have something to say to contemporary audiences. To spread the events of this arts festival across the entire city, to seek out new and different audiences, and to cater for ever more arts lovers through the select events of a contemporary festival. A new identity – a festival that is inclusive, that reflects its host city, and that brings the livelier aspects of society back into play. This is the challenge to be met; work to this end began in earnest in 2006, and the wager has yet to be won.
Epidaurus Festival
The first production to take place in the orchestra of the Epidaurus Ancient Theatre was in 1938: a Sophoclean tragedy Electra, was revived before a large audience at the "most beautiful theatre in the world" since ancient times. Sophocles' tragedy was performed without sets or lighting in the late afternoon sunshine.
In 1957, the theatre designed by Polykleitos the Younger welcomed the work of Aristophanes into its fold. Maria Callas, also appeared at this theatre in the Argolid, performing in productions of Bellini's Norma (1960) and Cherubini's Medea (1961).
Foreign theatre companies have also been called upon to appear, as have young artists. Academic performances of the material were gradually interspersed with more experimental productions. Until recently, the Festival was criticised for the dull nature of its theatre company selection criteria, and accused of stagnation and monotony.
Click on image to view  the Programme of 2012
How to Book
You may book your tickets for Festival events in three ways:
Online, using your credit or debit card
By telephone, using your credit or debit card
In person, at Festival Box Offices or from the PAPASOTIRIOU Bookstores and the PUBLIC Stores by purchasing a voucher.
Advance booking begins three weeks prior to each event.
Online Booking
Credit card bookings entail ticket purchases and not ticket reservations.
Tickets can be purchased on-line until 2 pm on the day of the performance.
Buying your tickets online allows you to select your seats, according to price and availability.
You may also buy season tickets, where available.
Tickets can be collected from:
Festival Box Offices (Monday – Friday: 9:00-17:00, Saturday: 09:00-15:00)
directly from event venues (sales start 2 hours before the event. During the first hour tickets for all the events are sold, while the second hour you can only buy tickets for the performance of the day).
A courier service is also available (at a charge of €3,5 per call out – The service is available only for Greece).
Telephone Bookings:
Tickets can be purchased over the telephone using a credit card.
Call Centre Sales Personnel: Tickets can be purchased from call centre sales personnel until 2 pm on the day of the performance.
Telephone Booking Centre: +30 210 – 32 72 000
Opening Hours: Through a telephone operator: 09.00-21.00 daily (including Sunday)
Tickets can be collected from Festival Box Offices, or directly from event venues. A courier service is also available (at a charge of 3,5 € per call out – The service is available only for Greece).
"In-Person" Bookings: Box Office
Addresses and Opening Hours:
Central Athens
39 Panepistimiou Street, inside the Pesmazoglou Arcade
Opening Hours: Monday – Friday: 9:00-17:00, Saturday 09:00-15:00
Odeon of Herodes Atticus
Dionysiou Aeropagitou Street (pedestrianised), Makriyianni
Opening Hours: 09:00-14:00 and 18:00-21:00 Daily
Ancient Epidaurus Theatre
Argolis Prefecture, Peloponnesus
Opening Hours): Monday – Thursday 09:00-14:00 and 17:00-20:00, Friday – Saturday 09:30-21:30
Other Venues
Tickets may be purchased at all Festival venues, with ticket booths opening two hours before the start of performances.
Ticket Sales
PAPASOTIRIOU BOOKSTORES
Athens: Stournari 35 & George
Athens: Panepistimiou 37 & Korai
Glyfada: A. Papandreou13
Peristeri: Ethnikis Antistaseos 55
Marousi: The Mall
Kifisia: Kolokotroni 10
PUBLIC STORES
Syntagma: Karageorgi Servias str. 1
Marousi (The Mall Athens): A. Papandreou str. 35
Glyfada: S. Karagiorga 4 & Lazaraki
Piraeus: G. Lambraki 152-154
Ag. Dimitrios (Athens Metro Mall): Vouliagmenis Avenue 276