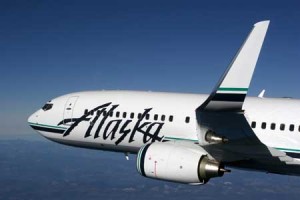 High-tech Amenities Include "Airport of the Future" and Power Outlets at the Gates (Los Angeles, California – March 27, 2012)  Los Angeles Mayor Antonio R. Villaraigosa joined Alaska Airlines Chairman and CEO Bill Ayer, City Councilmember Bill Rosendahl, airport commissioners and other officials in a ceremony today to unveil Alaska Airlines' "Airport of the Future" at Los Angeles International Airport (LAX) in a newly remodeled Terminal 6.  The air carrier has replaced traditional ticket counters with customer-friendly pods of check-in kiosks and bag-check stations.  In addition, Alaska's move from Terminal 3 to Terminal 6 offers its customers more convenient access to U.S. Customs and Border Protection checkpoints and to codeshare partner Delta Air Lines located in Terminal 5.  
The 13-month LAX construction project was a collaborative effort among the airline, Los Angeles World Airports (LAWA) and the Transportation Security Administration.  After breaking ground in February 2011, the $238-million project was completed on-time and $33 million under the original $271-million budget.
      "Alaska's Terminal 6 is an example of what can be achieved when government and private business partner.  The renovation, delivered on time and under budget, is part of L.A.'s $4.1-billion
investment in modernizing LAX," said Mayor Villaraigosa.  "In addition to dramatically improving  the travel experiences of both domestic and international passengers, the Alaska Terminal 6 project also supported over 1,000 jobs in our region."
    City Councilmember Bill Rosendahl, whose 11th District includes LAX and who is vice-chair of the City Council Trade, Commerce and Tourism Committee, said, "It's fitting that Alaska Airlines
has brought its innovative new designs to Los Angeles, home of the original 'Airport of the Future.' Score another round to stunning progress, cooperation, and job growth in our ongoing efforts to modernize LAX, the largest origin-and-destination airport in the world."
"We want Alaska to be the easiest airline to fly on, and our new terminal in Los Angeles epitomizes our mission to make travel hassle-free and seamless for our customers," said Bill Ayer, Alaska Airlines' chairman and CEO.  "Our new terminal provides more room for passengers to roam, swifter passage to the security checkpoint, more convenient connections to international flights and access to electrical outlets throughout our gates.  These state-of-the art amenities remove some of the traditional barriers between air travelers and where they want to go."
    LAWA Executive Director Gina Marie Lindsey said, "This is an important milestone in the continuing modernization of LAX.  The partnership with Alaska Airlines has enabled significant improvements in customer service and convenience for the traveler."
The New "Airport of the Future" Check-in Process
Instead of waiting in line at a traditional ticket counter, customers who haven't already checked     in online or with a mobile device can check-in at a self-service kiosk, where they can print their boarding passes and pay for checked bags. Customers with carry-on luggage would proceed directly to the passenger security screening checkpoint conveniently located in Alaska's Terminal 6.
Passengers checking luggage would then take their bag to a bag-check station, where customer service agents scan customers' boarding passes and attach bag tags. A new conveyor belt system weighs the luggage and moves it automatically through a state-of-the-art, baggage security screening system and then on to the aircraft.
According to Alaska Airline officials, the innovative design is expected to reduce average customer wait times from 20 minutes to typically less than four minutes, as it has in Anchorage and Seattle where the carrier already uses the "Airport of the Future" design.  Today, more than 70 percent
of the airline's customers check-in online, on a mobile device or at a check-in kiosk, which are available at almost all of the 92 airports Alaska serves.
Other features of the renovated Terminal 6 include a new Board Room airline lounge, electrical outlets at half the seats in spacious boarding gate areas, a central service counter, and new state-of-the-art gate information displays.  The construction project also incorporated many sustainable building practices in accordance with Leadership in Energy and Environmental Design (LEED) certification by the U.S. Green Building Council.  The airline's Board Room was LEED-designed with numerous energy-efficient and environmental features including low-flow water fixtures that reduce consumption 30 percent compared to traditional fixtures, energy-efficient lighting systems and Energy Star-certified appliances.  
    Total project cost was funded using approximately $16 million in Alaska Airlines invested capital for proprietary improvements (airline lounge, specialty lighting, finishes and other architectural elements, etc.); approximately $20 million in TSA reimbursements for security screening measures; and the remainder in LAWA commercial paper/long-term debt, LAWA cash, and Passenger Facility Charges.  NO funds from Los Angeles City's general fund were used.
About Alaska Airlines
    Alaska Airlines directly employs nearly 1,000 (983) Los Angeles-based flight crew members, customer-service, maintenance and ground-handling workers.  This number does not include additional employees who work for contracted catering, fueling and other ground-handling companies.
Alaska Airlines and its sister carrier, Horizon Air, together operate 35 flights a day to 19 destinations from Los Angeles.  Because 15 of these 35 daily flights go to nine destinations in Mexico, Alaska operates the most international flights out of LAX than any other airline.       
Alaska Airlines has long pioneered technology to improve the customer experience.  The airline was the first in North America to sell tickets online in 1995 and, four years later, was the first carrier worldwide to offer Internet check-in and boarding passes.