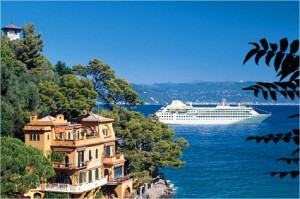 Those who yearn for the days when travel was an adventure to be savoured will be pleased to learn that Silversea is offering a new series of 20 "Grand Voyages" in 2012.
Designed exclusively for the traveller who relishes a more leisurely pace, this special collection offers extended voyages from 24 to 64 days. These unique odysseys combine the luxury of sailing aboard intimate, elegant ships with expanded journeys to diverse regions of the world, featuring visits to must-see traditional ports, as well as exotic destinations that are off the beaten path.
Steve Tucker, Silversea's vice president of field sales for North America, said: "Our Grand Voyages are perfectly suited to the traveller who has the time and passion to indulge in travel on a grand scale. You can explore the most desirable ports of the Mediterranean for 27 days or visit Rio in time for Carnaval on a 64-day circumnavigation of South America — and unpack only once."
Highlighting the Grand Voyages are generous savings incentives and a US$1,500 per suite "Passport to Luxury" Onboard Spending Credit. Some of the voyages also include roundtrip economy airfare (from select gateway cities) and transfers between airport and pier on embarkation and disembarkation days.
Listed below is a small sampling of the Grand Voyages for 2012:
— AFRICA & MEDITERRANEAN: Silver Winddeparts 3 February on a 53-day "Safaris & Mediterranean Sun Coasts" voyage from Cape Town to Istanbul, sailing around the southern tip of Africa and northward along the continent's Atlantic coast to the Mediterranean with calls in 15 countries, including exotic Mozambique and Morocco. Guests will also enjoy such marquee cities as Monte Carlo, Rome and Athens. Other highlights include a three-day, two-night stay in Barcelona and overnight visits in Richards Bay, Walvis Bay and Livorno (Florence). Best-available fares start at $22,976 per person.
— ASIA & AUSTRALIA: Silver Shadow departs 11 December on a 24-day "Grand Asia & Australia" voyage from Hong Kong to Sydney with calls in Vietnam, Singapore, Indonesia and Australia. Highlights include an overnight stay in Ho Chi Minh City. Best-available fares start at $10,787 per person.
— MEDITERRANEAN & NORTHERN EUROPE: Silver Whisperdeparts 1 May on a 34-day "Springtime Grand Europe" voyage from Monte Carlo to Copenhagen with calls in Spain, Portugal, France, UK, Ireland, Belgium, Germany, Finland, Russia and Estonia. Highlights include a three-day, two-night stopover in St Petersburg and an overnight in Bordeaux. Best-available fares start at $19,146 per person.
— SOUTH AMERICA: Silver Spiritdeparts 10 January on an exciting 64-day "South America & Rio Carnaval" voyage. Sailing roundtrip from Fort Lauderdale, Silver Spirit will circumnavigate South America, first heading southward along the Pacific coast, then passing through the Strait of Magellan and on to the Falkland Islands, before voyaging up the east coast to the Caribbean. In total, 18 countries will be visited. Highlights include a 2-night stay in Rio de Janeiro during Carnaval and overnight stays in Callao (Lima), Punta Arenas and Buenos Aires. Best-available fares start at $33,658 per person.
WORLD CRUISE 2012
The grandest of all voyages, and in a class all its own, is Silversea's World Cruise 2012. On 6 January, Silver Whisper will embark guests in Fort Lauderdale for a remarkable 115-day World Cruise that concludes in glamourous Monte Carlo. On this magnificent odyssey, her guests will visit 45 ports in 27 countries stretching from the Caribbean and South America to Africa, the Far East, Arabia and Europe. Along the way, they will enjoy 13 overnight visits and exclusive insider access to seldom seen global treasures. Best-available fares start at $59,585 per person.
Guests sailing aboard the full 115-day World Cruise will enjoy these exclusive amenities:
Included roundtrip Business Class air and private car transfers (airport/ship/airport)
5% Extended Voyage Savings
$2,000 Onboard Spending Credit per double-occupancy suite
$1,500 "Passport to Luxury" Onboard Spending Credit per double-occupancy suite
Gala Bon Voyage reception and dinner with overnight accommodation aboard Silver Whisper
5 exclusive World Cruise events
3 Silversea Experiences ashore
Special commemorative gift
Silver Shore Baggage Valet between guest's home and ship in Fort Lauderdale and Monte Carlo
Complimentary laundry service
4 hours of Internet service per voyage segment
All cruise fares listed above are the current best-available starting fares for a Vista Suite, which are cruise-only Silver Savings rates (based on double occupancy) that may include Extended Voyage Savings of 5% and Venetian Society savings of 5%. Silver Savings fares are capacity-controlled, subject to availability and are likely to increase as the sailing date approaches.