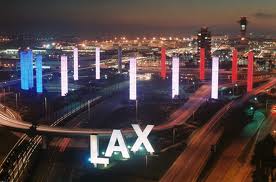 The Board of Airport Commissioners approved two 10-year contracts for new food-and-beverage concessions in Terminals 4, 7 and 8 at Los Angeles International Airport (LAX).  Almost all of the new concession concepts are based in the City of Los Angeles or Southern California.  The new concessions are expected to build out through 2012, and complement concessionaires previously selected last October.
The main objective of the new concessions competition is to increase passenger satisfaction by introducing a world-class concessions program reflecting the best of local, regional and national concepts appropriate for LAX.  Particular emphasis was placed on creating a "sense of place" reflecting the locales and flavor of the Los Angeles region, while encouraging local and Airport Concessions Disadvantaged Business Enterprise participation.
"The competition resulted in a slate of new food and beverage establishments representing some of L.A.'s most sought-after restaurants and celebrity chefs," said Los Angeles World Airports (LAWA) Executive Director Gina Marie Lindsey.  "We have a cast of new, talented and proven restaurants that will help put the 'L.A.' back into 'LAX.'"
Contract awardees and their concept packages are:
●         Host International, Inc. (Package 1A for Terminal 4):  Campanile (Chef Mark Peel); Cole's ("Originators of the French Dip"); 8oz. Burger Bar (Chef Govind Armstrong); L.A. Gourmet Street Truck; La Provence Patisserie & Café; Real Food Daily (vegan); and Starbucks.
●         CMS/Camacho Ventures (Package 1C for Terminals 7-8):  Seven Grand and BLD (two concepts by Chef Neal Fraser); ¡Lotería! Grill (Chef Jimmy Shaw); Marmalade Café; The Counter ("Custom Built Burgers"); Yogurtland; and Coffee Bean & Tea Leaf.    
The Terminal 4 concession agreement is expected to return to LAWA $4.125 million for the first year, and a minimum of $41.25 million over the 10-year term.  Terminals 7/8 are expected to return $1.7 million for the first year, and a minimum of $17 million over 10 years.  The Board-approved contracts are subject to approval by the Los Angeles City Council.  
The two new concessions contracts were derived from a total of 11 proposals submitted by seven companies.  Proposals were evaluated by a panel of LAWA executives and one outside industry representative on criteria that included:  overall qualifications and experience, capital investment and improvements, brand and concepts plan, brand/concept development and promotion, management and operations plan, customer service plan, financial capacity, and financial return to LAWA.
Los Angeles International Airport (LAX) is the seventh busiest airport in the world and third in the U.S., offering more than 565 daily flights to 81 domestic cities and over 1,000 weekly nonstop flights to 65 international destinations on over 75 carriers.  In 2010, LAX served over 59 million passengers, processed over 1.9 million tons of air cargo valued at nearly $77 billion, and handled 575,835 aircraft operations (landings and takeoffs).  LAX is part of a system of three Southern California airports – along with LA/Ontario International and Van Nuys general aviation – that are owned and operated by Los Angeles World Airports, a proprietary department of the City of Los Angeles that receives no funding from the City's general fund.  For further information, visit www.lawa.aero/lax.