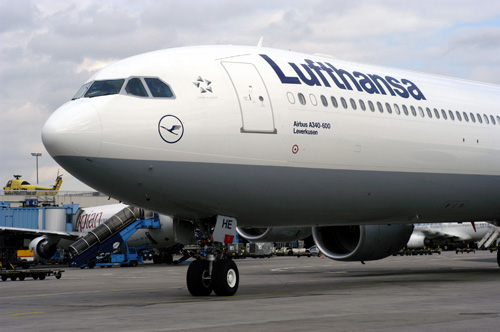 Lufthansa is continuing to expand its presence in South America and next winter is adding a world-famous dream destination to its route network: Rio de Janeiro. The new non-stop service from Frankfurt to Brazil's second-largest city after Sao Paolo will be launched on 30 October 2011. Flights on this new route (LH 500 and LH 501) will be operated five times weekly with an Airbus A340 configured with 221 seats in a three-class layout (First, Business and Economy). Rio de Janeiro, renowned for its Carnival and such world-famous landmarks as Sugar Loaf Mountain and Copacabana Beach, is one of the venues for the 2014 World Cup in Brazil and will also host the Summer Olympics in 2016.
"South America, with its dynamic economy, is one of the most important growth markets for Lufthansa," says Dr. Alexis von Hoensbroech, Vice President Hub Development and Capacity Management Frankfurt, Lufthansa Passenger Airlines. "With the launch of the new service to Rio de Janeiro, Lufthansa will be adding a key destination, which is popular among businesspeople and leisure travellers alike, to its route network. Lufthansa is now significantly expanding its services to the region and from next winter will offer 76 flights per week to five destinations in South America. That compares with 42 flights to three destinations in 2007."
Lufthansa is no newcomer to Rio de Janeiro. Germany's largest airline has serviced the metropolis already since 1956 until 2005. Thanks to the strong economic growth in the region in recent years, a comeback is now planned for the end of October, at the start of the 2011/2012 winter timetable. The new route will complement Lufthansa's existing serv-ices from Frankfurt and Munich to Sao Paolo. From Rio de Janeiro, Star Alliance partner TAM offers numerous connecting flights. Brazil, and in particular the Greater Rio de Ja-neiro metropolitan area, which has a population of more than 12 million, is now one of the most dynamic growth markets in South America. Thanks to the expansion of Brazil's oil and gas extraction industry, many German and international firms have set up offices in the port city, making it an increasingly popular destination also for business travellers. In the run-up to the World Cup and the Olympic Games, Rio de Janeiro remains a strong tourist magnet.
Lufthansa is offering an attractive introductory fare for flights to Rio de Janeiro. A round-trip ticket from Frankfurt to Rio starts at 749 euros and can be booked now. The quoted fare applies to a return flight in Economy Class, inclusive of all taxes, fees and the Luf-thansa Ticket Service Charge of 15 euros if the booking is made online at www.lufthansa.com. Miles & More members can earn miles on these flights. Reservations can be made via the Lufthansa Call Center in Athens in 00302106175200.  Customers can also book their flights through Lufthansa-designated travel agencies.