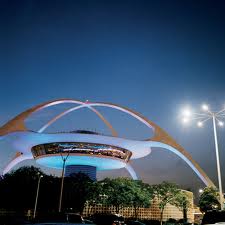 The number of crimes reported at Los Angles International Airport dropped 5.5 percent and major crime continues to be almost non-existent, according to 2010 statistics released today by Los Angeles Airport Police.  Total number of crimes dropped to 2,308 reports in 2010 from 2,444 reports in 2009.  Major crime dropped 4.9 percent from 809 incidents last year from 851 incidents in 2009.
The total number of arrests decreased by four percent to 1,347 in 2010 from 1,407 in 2009; however, one arrest often resolved several reported crimes.  The drop in crime occurred while passenger volume rose 4.5 percent to over 59 million last year from 56.5 million passengers in 2009.
"The reduction in crime at LAX is testimony to the hard work and dedication of the Airport Police and to our commitment to public safety in and around the airport," Los Angeles Mayor Antonio Villaraigosa said.  "We continue to invest in layers of security to ensure safe, efficient travel for the tens of millions of travelers who fly through LAX every year — their safety is top priority."
LAX Crime Reports
2010
2009
+/-%
TOTAL
2,308
2,444
– 5.5%
Los Angeles Airport Police Chief George R. Centeno said, "LAX is one of the safest, high-density and high-traffic areas in the City of Los Angeles with the total number of crimes against persons being remarkably low, given over 59 million travelers used LAX in 2010.  The crime statistics are a direct testament to the dedication and commitment to duty demonstrated by the men and women of Los Angeles Airport Police."
– more –
2010 LAX Crime Statistics – Page 2 of 3
In the category of Part-I Crime Against Persons, which includes all major categories of crime against persons, there were no homicides or rapes reported – the fifth straight year since 2005 when an Airport Police officer was killed in the line of duty.  Two robberies were reported last year compared to one in 2009.  Four aggravated assaults were reported in 2010, resulting in one arrest, compared to none in 2009.      
Part-I Crime Against Persons
2010
2009
Homicide
0
0
Rape
0
0
Robbery
2
1
Aggravated Assault
4
0
TOTAL
6
1
Reports of Part 1-Crime Against Property — the more common type of crime that affects the quality of passengers' experiences at LAX — decreased six percent to 803 incidents in 2010 from 850 in 2009.  Larceny (theft from individuals), the largest category of property crime, dropped seven percent to 709 incidents in 2010 from 766 in 2009.  There were 14 reports of commercial burglary in 2010, two more than in 2009.
Of the 6,515,874 vehicles parked in LAX parking facilities in 2010, there were 28 reports of burglary from locked vehicles, a decrease of 32 percent from 41 incidents in 2009.  Property theft from unlocked/unsecured vehicles more than doubled to 45 reported incidents in 2010 from 22 incidents in 2009.  Last December, the LAX Crime Task Force arrested two suspects responsible for removing 17 catalytic converters from vehicles at LAX and dozens more from vehicles parked off airport – resulting in a substantial decrease in thefts from vehicles since these arrests.  There were seven reports of motor vehicle theft (grand theft auto) in 2010, two less than in 2009.  
Part-I Property Crime
2010
2009
+/- %
Burglary, Commercial
14
12
17%
Burglary, Vehicle
28
41
– 32%
Theft from Vehicle
45
22
105%
Motor Vehicle Theft (Grand Theft Auto)
7
9
– 22%
Larceny
709
766
– 7%
TOTAL
803
850
–  6%
– more –
2010 LAX Crimes Statistics – Page 3 of 3
In the category of Part-II Crime, the largest single statistical category of Miscellaneous Offenses dropped six percent to 1,417 in 2010 from 1,507 in 2009, primarily as a result of increased proactive law enforcement and federal passenger and checked-luggage screening measures.  This category includes prohibited weapon violations, drug-related offenses, loitering/Illegal lodging, operating vehicle for hire without authority, forgery, disturbing the peace, driving with a suspended or without a valid license, and solicitor violations.
Reports of battery increased to 51 incidents in 2010 from 47 incidents in 2009.  Reports of vehicle vandalism from all airport parking facilities, including employee parking lots, dropped by two incidents in 2010 from 39 incidents in 2009.   
Part-II Crime
2010
2009
+/- %
Battery
51
47
+ 8.5%
Vehicle Vandalism
37
39
–  5%
Miscellaneous
1,417
1,507
–  6%
TOTAL
1,505
1,593
–  6%
Airport Police statistics cover the approximately 3,600 acres of LAX property, including passenger terminals, parking facilities, aircraft ramps, offices and cargo areas.
Los Angeles Airport Police is the fourth largest law enforcement agency in Los Angeles County with more than 1,200 law enforcement, security and staff personnel.  Airport Police is a division of Los Angeles World Airports.
LAX is the seventh busiest airport in the world and third in the United States, offering more than 565 daily flights to 81 domestic cities and over 1,000 weekly nonstop flights to 65 international destinations on over 75 carriers.  In 2010, LAX served over 59 million passengers, processed over 1.9 million tons of air cargo valued at nearly $84 billion, and handled 575,835 aircraft operations (landings and takeoffs).  LAX is part of a system of three Southern California airports – along with LA/Ontario International and Van Nuys general aviation – that are owned and operated by Los Angeles World Airports, a proprietary department of the City of Los Angeles that receives no funding from the City's general fund.