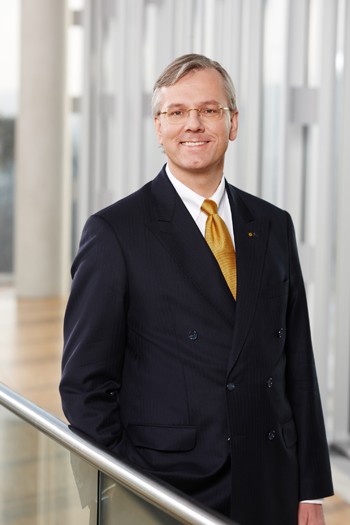 Τhe Supervisory Board of Deutsche Lufthansa AG appointed Deutsche Lufthansa AG Deputy Chairman Christoph Franz as the successor to Wolfgang Mayrhuber as Chairman and CEO of the Lufthansa Group. The change at the helm of the Group shall take place with effect from 1 January 2011. Also with effect from 1 January 2011, the members of the Supervisory Board appointed Carsten Spohr to the Executive Board of the Lufthansa Group. As head of Lufthansa German Airlines he shall also occupy the position of CEO and Chairman of the Lufthansa German Airlines Board.
As his successor as Chairman and CEO at Lufthansa Cargo AG, Karl Ulrich Garnadt was proposed. Garnadt is currently responsible for Hub Management & Passenger Services on the Lufthansa German Airlines Board. "Our company is characterized by a responsible personnel and executive development guided by foresight and it is this very development that regularly assures us an outstanding management team," commented Supervisory Board Chairman Jürgen Weber speaking on the appointments.
Although Lufthansa shall not officially bid farewell to Mayrhuber until December, Weber highly valued his 40 years at Lufthansa, adding that during his almost eight-year tenure as Chairman and CEO of the Group, Mayrhuber had successfully laid decisive foundations for the future of the company with the expansion of the Star Alliance, the establishment of the Airline Group and the development of new markets. The quality of his leadership could ultimately be seen in the way he successfully steered Lufthansa through various crises that the Group managed to overcome while maintaining orientation towards quality and without having to sustain any major job losses. Wolfgang Mayrhuber congratulated his successor in the name of the Executive Board saying: "With Christoph Franz at the helm and his broad wealth of experience, foresight and determination to implement change, our company will continue to be able to react to future challenges with the necessary speed and flexibility. Our customers, shareholders and staff shall continue to benefit from a Lufthansa at its very best in the future – our new management team with Carsten Spohr, an engineer, pilot and versatile manager, has all the prerequisites to make sure of it." Christoph Franz stated that he was, "looking forward to facing the industry's challenges with a strong team of over 116,000 employees.
The companies of the Lufthansa Group stand for quality, and we shall continue to grow profitably, to convince our customers with the very highest standards of safety, outstanding service, high comfort, optimal network quality and the quality of work that they have grown accustomed to in the future." As the future Chairman and CEO of Deutsche Lufthansa AG, Christoph Franz shall be responsible for the Lufthansa Group and its five business segments: the Passenger Airline Group, Logistics, MRO, IT Services and Catering with a total of over 116,000 employees worldwide. Carsten Spohr shall assume responsibility for Lufthansa German Airlines and its over 37,000 staff worldwide on the Executive Board of the Lufthansa Group. Lufthansa German Airlines is structured in the following divisions: Operations, Marketing & Sales, Passenger Services & Hub Management, and Finance & Human Resources.
Christoph Franz was born on 2 May 1960 in Frankfurt am Main and began his career at Lufthansa in 1990. He was initially involved in strategic, sales and controlling projects in Germany, France and Turkey. From 1992 to 1994 he served as a member of the staff team under then-Chairman and CEO Jürgen Weber, which devised and realized the airline's corporate turnaround following the upheavals of the First Gulf War. In 1994, with Lufthansa's turnaround successfully completed, Franz moved to Deutsche Bahn AG, where he served in various executive functions. His time there culminated in his appointment as a member of the Executive Board and CEO of the company's passenger transport division.
On 1 July 2004 Franz was appointed to the position of Chief Executive Officer at Swiss International Air Lines AG. On 1 June 2009 he was appointed Deputy Chairman to Wolfgang Mayrhuber on the Lufthansa Group's Executive Board and also assumed the position of Chairman on the Lufthansa German Airlines Board. Carsten Spohr was born on 16 December 1966 in Wanne-Eickel. After obtaining a degree in industrial engineering, he went on to acquire his commercial airline pilot's licence at the Lufthansa Pilot School in Bremen and Phoenix. He completed a management training course at Deutsche Aerospace AG, Munich, before returning to Lufthansa in 1994. Upon his return to Lufthansa, he was initially in charge of recruiting, before becoming personal assistant to the Chairman and CEO of Lufthansa from 1995 to 1998. In August 1998 he assumed responsibility for Lufthansa's regional partnerships in Europe. In February 2000, he became Vice President Alliance with the responsibility for managing and coordinating Lufthansa cooperation partners worldwide. In July 2003 he additionally assumed responsibility for Lufthansa Passenger Airlines' strategy and airline holdings. In October 2004, Spohr was appointed to the Executive Board of Lufthansa German Airlines. In that capacity, he was responsible for hub management, cabin crews and human resources at Lufthansa German Airlines. The Supervisory Board of Lufthansa Cargo AG appointed Spohr CEO and Chairman of Executive Board at Lufthansa Cargo AG with effect from 15 January 2007.