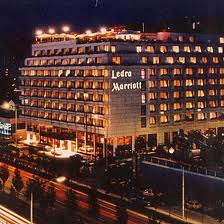 Celebrate the "Day of German Unity" with authentic German cuisine at the Athens Ledra Marriott Hotel!! Chef Herbert Damboeck showcases his native recipes with authentic German tastes at the hotel's Zephyros Restaurant. A feast of traditional dishes that are bound to tantalize your taste buds are presented in a lavish dinner buffet.  Genuine flavors and tastes from regions all over Germany will be offered from Thursday, September, 30th to Monday October, 4th, 2010.
Athens, Greece – September 27th, 2010 – Athens Ledra Marriott Hotel – Savor German Tastes and Delicacies.
Savor the tastes of genuine German recipes as the Athens Ledra Marriott Hotel displays Chef Herbert Damboeck's native culinary recipes from regions all over Germany. Zephyros Restaurant features a sumptuous dinner buffet accompanied by traditional music, beer and wine. Meticulously prepared dishes include, Rheinisher Sauerbraten, Spaetzle, Apple Strudel and many more favorites. Buffet stations include renowned German appetizers (Vorspeisen), fish specialties (Fischgerichte), an array of marinated salads (Angemachte Salate), a rich choice of main courses (Heisse Gerichte) complimented by traditional condiments, renowned Soups and a carving station of Roast Pork and Leg of Pork with Dark Beer Sauce and Mustard. The feast would not be complete without an affluent selection of over 10 desserts, distinctly created to perfection.
For reservations call us on +30 (210) 930 0060.
Menu Selections and Prices:
German Dinner Buffet: 19:00 – 23:30. € 29.00 per person and  €16 for Children under 16.
German Buffet Sunday Brunch: 12:30 – 17:00. € 43.00 per person.
Wine tasting for only € 10.00 extra per person.
About the Athens Ledra Marriott Hotel:
Overlooking the Acropolis, the luxurious Athens Ledra Marriott Hotel is located just minutes from the city's famous sights. Featuring spacious guest rooms and gracious amenities, this Acropolis hotel is an unforgettable escape for business and leisure travelers alike.  With easy access to Plaka, Kallithea, and fabulous Athens restaurants, the Athens Ledra Marriott Hotel is the ideal place to make your home away from home.