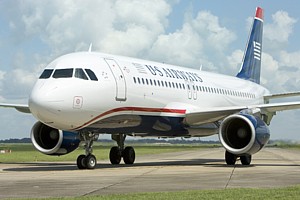 Employees to Share $3.1 Million Bonus
US Airways was ranked first in on-time reliability and customer satisfaction among the major network carriers in the second quarter, according to the Department of Transportation's (DOT) latest Air Travel Consumer Report released today.
The #1 rankings for the quarter were fueled by three consecutive first-place rankings (April, May and June) in on-time performance and two consecutive months (May and June) as the #1 carrier in customer satisfaction, among the airline's major hub-and-spoke competitors.

Highlights from the June DOT report included:
On-Time Performance: US Airways ranked first with 83.4 percent of its flights arriving within 14 minutes of their scheduled arrival time. This is the third consecutive month US Airways has ranked #1 in on-time performance.
Customer Satisfaction: US Airways ranked first with 1.87 complaints for every 100,000 enplanements. This is the second month in a row that US Airways received the lowest ratio of customer complaints.

Baggage Handling: US Airways ranked a very close second with 2.53 mishandled bags for every 1,000 passengers. In another tight race, US Airways placed second in baggage handling for the quarter.
US Airways President, Scott Kirby said, "Once again, our employees stepped up to the plate and, despite summer thunderstorms and record load factors, kept our operation running smoothly and got our customers where they wanted to go, on time, with their bags and without any hassle. Delivering these back-to-back first-place results is a great achievement. I congratulate and thank our 31,000 employees for doing an outstanding job."
Later this month, US Airways employees will receive a $100 bonus for June's results, representing a $3.1 million payout for its 31,000 employees. The airline awards $50 per metric (on-time arrivals, baggage handling and customer complaints) when it places first among the "Big Five" network carriers (American, Continental, Delta, United and US Airways). Including June's bonus, US Airways employees will have shared approximately $10.7 million so far in 2010.
US Airways Chief Operating Officer, Robert Isom said, "June's results demonstrate the intense focus that our employees have on making sure that flights arrive on time, bags are delivered as promised and that customers are treated right. It is exciting to see that our efforts are being recognized by the DOT and, more importantly, by our customers. These back-to-back first-place finishes validate what we've always known – US Airways has the best aviation professionals in the industry."