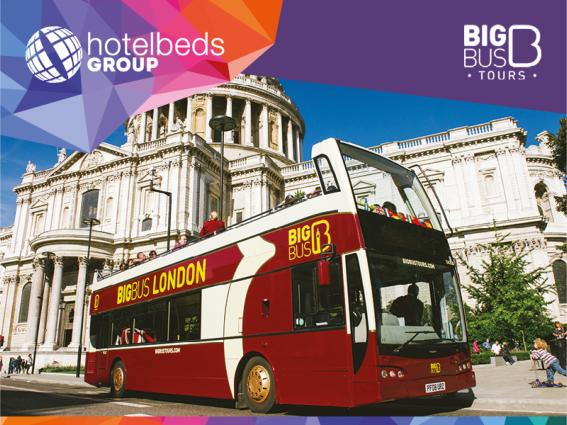 Partnership forms part of commitment to continually grow portfolio of Group´s Transfer & Activity Bank (TAB) to offer clients best available products and prices.

Big Bus Tours anticipates significant increase of passengers from new global partnership.

Over 35,000 clients across Hotelbeds Group brands – including Hotelbeds and Bedsonline – will have access to walking tours, boat cruises and attraction packages.
Hotelbeds Group, a leading bedbank worldwide and business-to-business provider of services to the travel industry, has continued to strengthen its fast-growing Transfer & Activity Bank (TAB) business through a global partnership with Big Bus Tours, the largest privately owned operator of open-top sightseeing tours in the world.
The long term deal is projected to deliver a significant increase in passengers for Big Bus Tours with consistent annual growth into the next decade.
As part of the "Preferred Partner" deal, both businesses will work collaboratively in developing a strong customer proposition for sale through Hotelbeds Group's large portfolio of over 35,000 travel selling partners around the world made up of Online Travel Agencies, Travel Agents, Tour Operators and Airlines.
Javier Arévalo, Transfer & Activity Bank´s Managing Director, commented: "Taking a Big Bus Tour is recognized by tourists all around the world as the first thing to do when arriving in a new city – and we´re simply thrilled to be its global partner. This news forms part of our commitment to our customers to provide them with the best and widest range of product available, at the best prices, for real-time instant booking. The addition of the walking tours, boat cruises and attraction packages with the same hop-on, hop-off concept makes this agreement more exciting still".
Omid Golshan, Executive Vice President of Global Growth at Big Bus Tours, adds: "We are very excited that Hotelbeds Group values the importance of working with a premium service provider within the open-top sightseeing tours sector. We look forward to deepening our partnership over the next few years through an even closer relationship with Hotelbeds Group and its extensive network of global distribution partners. Together we should be able to accelerate our growth whilst ensuring customers receive the very best value for their city experiences."
Big Bus Tours is the largest operator of open-top sightseeing tours in the world, providing sightseeing tours in 19 cities across four continents, and offers its services in up to 26 languages. The Big Bus Tours philosophy is to "think global and act local" understanding each city, its character and culture. Its aim is to provide exceptional levels of service and a unique sightseeing experience to the millions of customers it receives every year. This complements Hotelbeds Groups' commitment to proactively work with partners and their vision of "reshaping travel".
This deal forms part of Hotelbeds Group´s strategy – announced last November at the World Travel Market (WTM) in London – of an ambitious plan to triple sales in its TAB business along with a commitment to expand its product portfolio to deliver best-in-class technology.