Lufthansa receives Airline Business technology award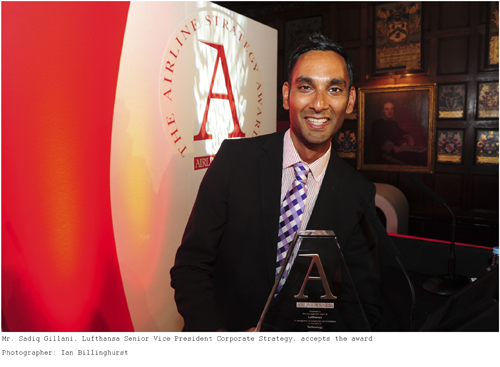 Lufthansa Group wins accolade for its work on innovative solutions and joint approach Exemplary cooperation between Lufthansa Technik and Group airlines

Lufthansa Group has landed first prize in the technology category of The Airline Strategy Awards conferred by the prestigious Airline Business magazine, underlining the technical competence and power of innovation of Lufthansa Technik, the groups subsidiary and the world market leader in MRO (maintenance, repair and overhaul) services. The award was presented at a ceremony staged by the magazine at the Honourable Society of Lincoln's Inn in London on 14 July 2013.
Accepting the award on the Group's behalf, Lufthansa Senior Vice President Corporate Strategy, Sadiq Gillani said: "We are delighted to receive this award, recognizing the Group's commitment to developing industry leading innovations, which also contribute towards economic and environmental sustainability. We are focussed on developing innovative new ways to reduce our fuel consumption through the combined strength of Lufthansa Technik and the airlines of the Lufthansa Group. As the global aviation leader, we will continue on this path shaping the industry, and making flying even more environmentally friendly."
The independent jury of respected industry experts said the award went to Lufthansa Group because of its investments in fuel saving technologies, not only to cut its kerosene bill but also to position the Group favourably with regard to future aircraft support business opportunities. A key criteria is the way in which technology has been integrated into the overalll corporate strategy and in which it is used to support overall business goals.
"As airlines compete amid challenging economic times and high fuel prices, strong leadership is an essential quality for those that prosper. Over the last 12 years, The Airline Strategy Awards have recognised the industry's best-in-class at boardroom leadership, and this year's winners all excel in this regard," said Max Kingsley-Jones, editor of Airline Business. "Lufthansa is always there when it comes to innovation".
Two examples mentioned by the jury are the pioneering test case with a pilot-controlled tow-tractor – the "Taxibot" – for aircraft operations at Frankfurt this year. The semi-robotic hybrid-electric tug will be used in a series of tests. The long term aim is to move departing planes from the ramp to the runway without the use of the main engines for regular taxiing.
Furthermore, to improve fuel efficiency in flight, Lufthansa is testing new aircraft paint with a sharkskin-inspired riblet texture on two Airbus A340-300s. Eight 10 x 10cm (4 x 4in) test patches have been placed on the fuselage and wings of each aircraft to assess the coating's durability in regular flight operations – a dirt-repellent texture is imprinted into the surface during painting.
Beyond the technology-driven investments the Lufthansa Group is demonstrating its responsibility for the climate and the environment by engaging in a wide variety of projects. These include its efforts to improve fuel efficiency though fleet modernisation and more effective flight route planning as well as its support for diverse climate protection projects.