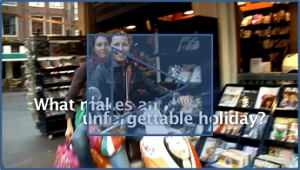 At City Fair 2013, ETOA and BBC World News premiered a new 90-second video commercial that will be at the centre of a four-month campaign promoting Europe as a destination.
The video commercial was produced from footage provided by ETOA members, which was cut together to show how Europe provides 'an unforgettable holiday'.  Clips are organised to demonstrate five broad themes: history, arts, entertainment, gastronomy and shopping throughout the continent.  The use of seven languages (Arabic, French, Japanese, Mandarin, Portuguese, Russian and Spanish) in graphic titles ensures accessibility to a wide audience.  The music is Handel's highly recognisable 'The Arrival of the Queen of Sheeba'.
            
Magdalena Osmola, ETOA's Head of Marketing & Communications said: "With Europe's share in global tourism faltering, campaigns such as this will be helpful in promoting the continent whilst maintaining a brand awareness of Europe as a destination."
Following its unveiling at City Fair, a 60 second version of the video will be broadcast throughout Europe on BBC World News at 21:57 CET on Tuesday 25th June.  The full 90-second version will be displayed on the BBC.com/Travel and Lonely Planet websites for four months.  As the campaign is intended to promote Europe internationally, the commercial will be visible on BBC.com for just three weeks within Europe but outside Europe for the full period.  In the UK the commercial can be viewed and downloaded via www.etoa.org.
            
The BBC World News channel has a total reach of 361 million households worldwide.  BBC.com and the Lonely Planet websites attract 58 million and 10.3 million unique users per month respectively.

In this year's campaign, footage was supplied by tourist boards from Amsterdam, Cannes, Catalonia, Flanders, The Hague, Helsinki, Ireland, London, Lucerne, Paris, Regensburg and Zagreb, as well as McArthurGlen Designer Outlets.  Media space for the campaign is valued at $50,000 and within the terms of the partnership all ETOA members are allowed and encouraged to use the commercial for their own promotional purposes.
            
A similar campaign will be repeated in 2014, ETOA members are invited to contribute their best footage for inclusion next year.